Up to $65 off Nest Thermostats @ Chapters Indigo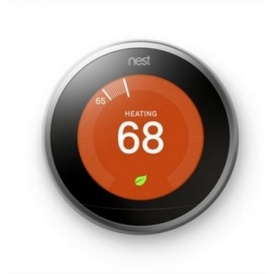 If you've had your eye on a Nest Thermostat but been reluctant to take the plunge due to the price, I've got some good news - they're on sale for up to $65 off at Chapters!
Nest Thermostats help you save on your home's energy costs, and with their app you can monitor your home's temperature and even change it, from anywhere!
Chapters has two options available:
The Nest Learning Thermostat 3rd Generation is a thinner, sleeker design than its predecessor with a bigger, crisper display. Independent studies have found that the Nest Thermostat saved an average of 10-12% on heating bills and 15% on cooling bills. It is currently on sale for $264.95 (reg. $329.95).
Or for the lower price of $204.95 (reg. $229.95) you can get the Nest Smart Thermostat E. This thermostat has a simple design and frosted display. It will automatically adjust your home's temperature so that you don't waste energy heating or cooling an empty home.
This offer is on until April 22, 2018, online only. Shipping will be free for these items.

You can also find Nest Thermostats on sale at Best Buy, and the Nest Learning Thermostat 3rd Generation is available for $264 shipped at Amazon.ca.