Today Only: Just $245 KitchenAid Architect Series Food Processor - Was $400 @ Hudson's Bay (EXPIRED)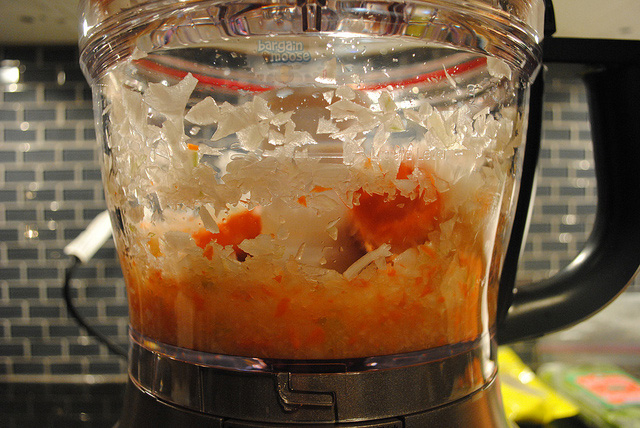 Today only, you can pick up a KitchenAid Architect Series food processor for just $244.99. It was originally priced as high as $399.99 and also comes with free shipping.
Once you click over to Hudson's Bay's site from the link above, you will see the silver option of the Architect, but it's also available in either pearl (white) or red.
Now to get to the nitty gritty. The KitchenAid Architect food processor has the following noteworthy features:
13-cup capacity
3 speeds: high, low or pulse
3-in-1 ultra wide mouth feed tube
Ultra tight seal
BPA free
Included is a 4-cup mini bowl and a special smaller blade for it. Now, I don't have the KitchenAid food processor but I have one that closely resembles it and the mini bowl is probably the part of it that I use the most. I tend to cook on a per day basis more often than in bulk and so it's nice to just put small quantities of whatever I need chopped into a small bowl than the bigger one.
It also comes with 3 slicing discs (one for julienne cuts), a multipurpose blade, an egg whip, a spatula and even an storage case for accessories. Just the egg whip alone is making me want to buy this food processor! No worries about this food processor not being able to hack whatever you put into it or for it to jump around as it features a heavy duty construction designed to power through anything you throw its way.
However, KitchenAid is actually one of my favourite brands and it's widely recognized as being one of the best ones for kitchen appliances. In fact, here's what one reviewer had to say about the KitchenAid Architect food processor:
It is a Kitchenaid so no doubt it is wonderful.
And here's a review that is more specific to the actual product:
Large capacity bowl, lots of power.
All in all, this is a fantastic price but don't miss it because there is no telling when it might go down this much again. It's currently unavailable at Amazon.ca and both Sears and London Drugs are selling it at its full price of $399.99.
(Image Credit: Keira Morgan)
(Expiry: 7th January 2015)