Today Only Buffalo David Bitton Jeans only $39.99 and Kids Jeans only $20 @ Hudson's Bay (EXPIRED)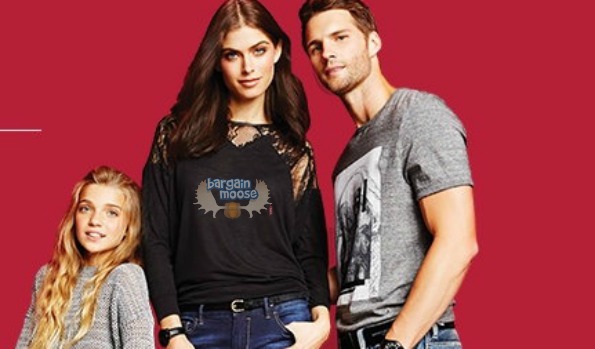 The Bay is having a great sale on denim today if you or your kids need a few new pairs. Buffalo David Bitton Jeans for men and women are available for only $39.99 and kids jeans for only $20. You'll save up to $75 on these jeans.
Denim is a wardrobe staple in our house; they're durable, reliable and great for every day. I like to try to get a little more style out of my denim, and so does my husband so we keep an eye out for a really great pair.  He would like this great slim leg men's pair in "Brushed",  adding a little bit of classic style without breaking the bank.
I'm not sure my husband would ever pay $115 for jeans, so I'll be sure to only show him the $39.99 price tag as that's in his range for a good pair. Does anyone else think sometimes they go crazy with the prices of denim? Sure they're a staple and durable, and a good pair can make anyone's butt look fabulous, but over $100 a pair is too steep for my budget.
There's a little more selection for men than women this time around, but if you're looking for a pair of skinny jeans, there are a few pairs for women. I like this great pair in black with a mid rise. Though I'm not a huge fan of the skinny jeans in the summer, I find they're great with boots so you don't look like you have a mile of fabric around your knees and calves. Regularly $108, it gives a sleeker look with a great pair of boots, such as these classic Lola Hush Puppies in black. Look at that, half way to a great casual outfit!
For the kiddos I like this pair of slim leg jeans for boys 8 to 20. Originally $69.50 you can save 60% and grab them for $20. Your little guy will have a little style and when he splatters mud all over them, it won't be hurting your pocketbook badly. Plus with a darker wash, you won't see every splatter of dirt and stray marker line all day long. The less times you have to bug your kid to change their pants (or you know, wash them!) the better.
While I'm not finding tons of reviews, there are a few blogs who have reviewed David Bitton's jeans. Multiple times they talk about his classic fit and how these pants are and easy wear and go without any effort which is what I would expect from a good quality pair of low maintenance jeans.
Shipping is free when you spend over $99 at Hudson's Bay.
Are you into the slim leg trend for your staple pair of jeans or totally over it?
(Expiry: 12th December, 2014)