The Bay Trade-in Handbag Discount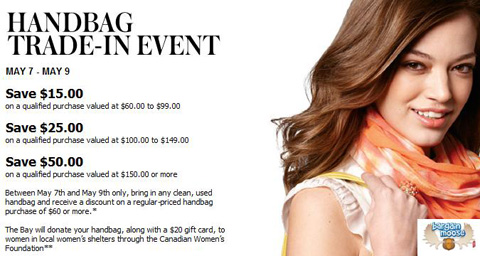 From May 7 until May 9, bring in any clean, used handbag and receive a discount on a new bag.
Handbag trade-in will get you a discount on a regular-priced handbag purchase of $60 or more. Give your used handbag to the cashier during your purchase to apply the discount. The discount amount will not be affected if you donate more than one handbag. The discount cannot be applied on Juicy Couture or Diesel handbags. Discount on regular priced handbag as outlined:
$15 off on regular priced handbags $60 to $99.00
$25 off on regular priced handbags $100 to 149.00
$50 off on regular priced handbags $150 and up
Every used handbag traded in will be donated to women at local women's shelters through the Canadian Women's Foundation along with a $20 gift card. As if giving to a good cause wasn't rewarding enough, the Bay gives us a discount on a new purse. Trading in a purse can create happiness for so many!