The Bay Canada: NYDJ Jeans $79.99 (Was $169)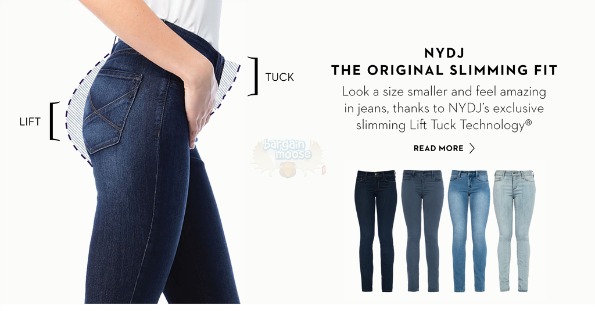 Check out the clearance sale on Not Your Daughter's Jeans at The Bay Canada. Originally these jeans retail for $169 each, but they are currently on sale for $79.99.
There are six different types to choose from. I was reading the descriptions of the jeans and leggings (which look a lot like jeans) and they mention their "Lift Tuck Technology", which left me clueless. I am pretty sure if I am not up on the technology of these jeans that others are out of the loop too. Here comes a little info.
NYDJ's 'Lift and Tuck' technology lifts and subtly reshapes your curves. They also have a criss-cross panel in the front that keeps your tummy in control and makes you look a full size smaller. Suddenly I am really loving these jeans. I think I would go for the Pamela Skinny  as I really like the black on black stripe down the side of the leg. At only $79.99, it costs only $5 more than the Gap jeans I usually buy.
Shipping is free once you spend $99. If you have an HBC Mastercard, you will get free shipping on orders of $45 or more when you pay with it.
(Expiry: Unknown)