The Bay Canada: Calvin Klein Tablet Case $26 (Was $88)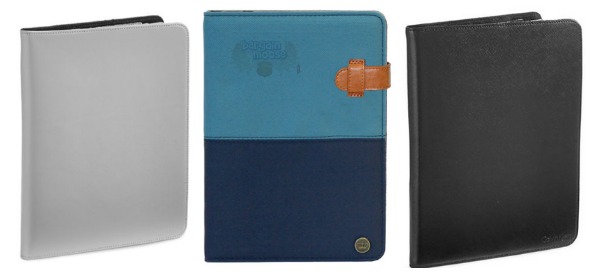 Pick up a new case for your tablet at The Bay Canada. Currently, Calvin Klein is selling their Saffiano Leather Tablet Case for $26.40, originally $88. You save 70% off the original retail price.
There really is not a lot of information given about this case. It is a universal tablet holder, which means it should hold most tablets (not iPads, not Minis). The case measures 9" long x 2" wide x 10" high and has a fold over closure to keep the screen protected. Both cases are made of leather on the outside with a clean exterior look. A Calvin Klein logo appears on the inside of the case, but the back and front appear to be devoid of any logos.
This case is not made for the iPad as the camera hole is on the back top right side of the case and not in the middle. I know that this will also not work with the Dell Venue 8's camera as it is also in the middle. I am not familiar enough with the rest of the tablets to know where their camera holes are, but it is something to watch out for if you want to purchase one.
I also wanted to mention the deal on this PKG Tablet Folio - El Camino Collection. Originally $55, it is now on clearance for $16.50 in either two-tone orange or blue. This case is made specifically for the iPad Air and has a ton of features that make this price an absolute steal. Enjoy the tab closure, three position viewing, extra internal pocket for papers, camera cutout for picture taking, and an auto sleep function when the case is closed. The PKG appears to have a hardy canvas like exterior with a little crown insignia on the bottom right. The faux leather tab closure in brown provides a nice accent. This case for the iPad Air is also 70% off the original retail price.
Unfortunately, these cases will not work for everyone, but for those who have compatible tablets these are amazing deals.
The Bay Canada offers free shipping on orders of $49 or more if you pay with your HBC Card. If you pay with any other currency, receive free shipping on orders of $99 or shipping starts at $5.95. See the rates through this link here.
(Expiry: unknown)