The Bay Canada: 10% - 15% Discount With This Invitation!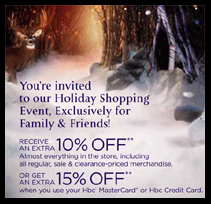 I got this email by invitation from TheBay.ca. This Sunday, the 7th of December 2008, you can get either a 10% discount or a 15% discount in-store. The 10% discount is for anyone, as long as you print and present this invitation when you go to The Bay Store Canada. The 15% discount only applies to HBC Mastercard holders, but I'm sure there are a few of those out there!
You can even print it out and pass it on to family and friends, who can use it at the Bay department store.
It says that you can use the discounts on pretty much anything in store, sale stuff as well as their regular priced merchandise. There are a few exclusions, such as Gucci watches… but I wasn't planning on buying one of those anyway, tee hee!!
Over at The Macleans Blog, Duncan was thrilled at the prospect of his "dowdy" local store getting a facelift. I must say I am in the same boat. My local store is dark, damp, grey, dull, boring, and really really needs a revamp on the inside. It doesn't really make me want to shop in there, but I do enjoy the odd visit to the food court!