The Bay: 25% Off Tassimo & Keurig Single Serve Coffee Makers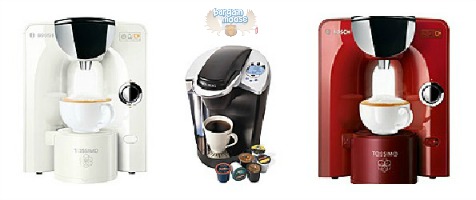 The Bay has 25% off their Bosch and Keurig Single Serve Coffee Makers, in-store and online until tomorrow.
I picked this one to blog about because I love the colour. This is the Tassimo T55, the latest addition to the coffee maker line-up. With a high-gloss finish, chrome fittings, minimalist design, and choice of colours, this is something that will look great on your counter. On top of that, it actually produces flavourful coffee and is equipped with an MAVEA MAXTRA water filter. Get it for only $172.49, regularly $229.99.
The Tassimo T20 is your basic single serve brewer. In solid black, it still produces flavourful and freshly brewed coffee, espresso, cappuccino, latte, macchiato, hot chocolate or tea in about one minute. Get it for only $112.49, regularly $149.99.
If you like Keurig, the B60 is a Special Edition single cup home brewing system with both upscale style and convenient features like a backlit LCD display with programmable controls and your choice of three cup sizes. Now only $129.99, regularly $179.99.
Get free shipping on orders over $99.
Expiry: 17th January 2013