The Bay 1 Day Sale Today: $130 Glucksteinhome 7ft Tree, 50% off all Other Trees, 40% off in Christmas Dept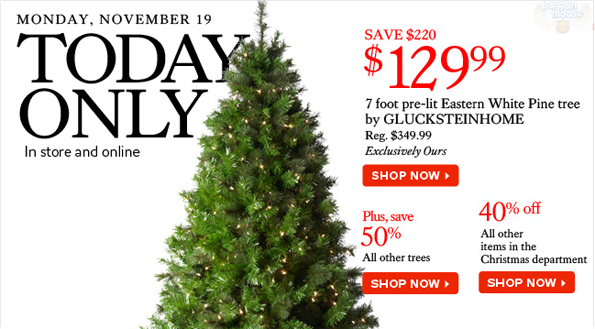 In the continuing one-day sales from The Bay Canada, today there are some Christmas offers!
UPDATE for Monday: It's Christmassy stuff!! The headliner item from The Bay today is the 7ft Glucksteinhome  pre-lit Eastern White Pine Tree - a saving of $220 down to only $129.99. As that's over $99, it would come with free shipping too. That's a decent size tree if you need a new one for Christmas, and couldn't be bothered with the hassle and mess of a real tree. It looks good, and the fact that it is pre-list also saves a bit of trouble in lighting it.
Secondarily, all other trees are 50% off at The Bay, but there are only a few left to choose from, with many already sold out.
And lastly today, all other items in the Christmas department are 40% off - this section is mainly decorations, lights and fancy baubles.
The headliner item which you can see in the image above is $19.99 for their coloured denim - this is really trendy at the moment, and that's a sweet price to stock up your wardrobe (reg price is $30). PLUS you get a FREE material girl tote bag with any material girl coloured denim purchase (one per customer). I'm tempted by the bright red or the purple skinny jeans. I love wearing this type of skinny jeans with big fluffy boots in the winter time.
As for more of today's one-day sales, here's a rundown:
Shipping is free on a spend of $99 or more (actually if you use your HBC credit card, the minimum is only $45).
(Expires 18th November 2012)