Tassimo Bosch T65 Hot Beverage Machine Was $180 | Now $60 OR $50 Each When You Buy 2 @ Sears Canada (EXPIRED)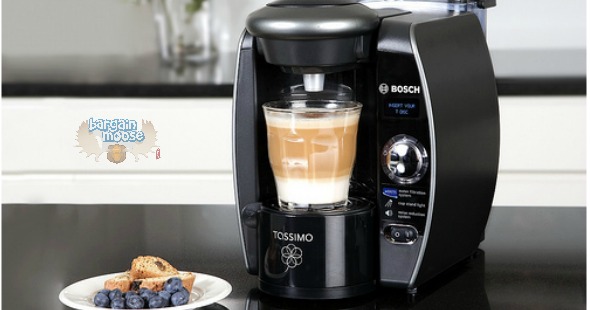 It seems to be a game of checkers between the Tassimo and Keurig brand brewing machines. Everyone has their own opinion on which brewer is better, and they hold faithful. If you are on Tassimo's team, or want to join Tassimo's team, you can shop at Sears Canada right now and take $120 off the Tassimo Bosch T65 Hot Beverage Machine for just $59.99. 
There is also a coupon code available that will save $20 when you spend $100, so if you are looking to purchase two of these Tassimo Brewers then your deal just got hotter! If you use this code, you will pay just $50 for each Tassimo T65 Brewing Machine.
Coupon Code: 941612147
Discount: $20 off when you spend $100
Expiry: 22nd January 2015
This Tassimo T65 Beverage Brewer is the perfect solution if you are looking for a compact unit to brew you a perfect cup of coffee at the touch of a button. This particular brewer that is on sale is the Twilight Titanium version. It will look good in any kitchen or office. I have a Tassimo brewer. All you have to do is insert your desired T-Disc flavour and press the button. If you have a larger cup, you may need to push the "plus" button to add more of your delicious drink.
To make sure that you really are getting the best deal on this Tassimo T65 from Sears, I did a little price comparison. This same version of the Tassimo brewer sells for $100 @ Amazon.ca and the next best price is $79.99 @ London Drugs.
As a Tassimo owner, the only real complaint I can think of would be the lack of flavours. Compared to the Keurig, I feel the Tassimo options are a little under populated. I also feel that good Tassimo flavours are harder to find. I just discovered that Target has McDonald's Coffee T-Discs and I was so excited about that. Then I heard Target was closing, and I honestly have no idea where I can get that flavour of T-Disc elsewhere. I do a lot of online shopping for my desired T-Disc flavours.
Here is a customer review for this Tassimo T65 Brewer:
This machine (T65) is a Tassimo brewer that has all the right features - good sized water reservoir that is easy to fill/clean, lighted cup holder and attractive yet easy to keep clean finish. I also have one of the (newer) T55 units and still prefer this older model for ease of use and features.
Unfortunately you will not qualify for free shipping from Sears.ca unless you spend over $99, so add two of these to your cart and you'll be set. You can always gift the second brewer for a birthday gift, or perhaps for Valentine's Day if your hubby is a coffee lover.
(Expiry: 16th January 2015)