Sears Canada: Promotional Number For 50% Discount on Clearance Toys!
I've spotted this nice promotional code from the Sears Outlet store. Here are the details: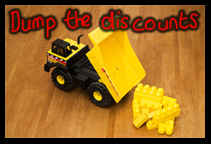 [blogcoupon name="Sears" code="941612112" url="sears.ca" discount="50% Off Clearance Toys" expiry="7th Dec 2008"]
The discount code applies to all toys in the Sears clearance sale that end with $.94. It excludes those ending in $.97 and clearance game tables. You need to paste the promo code into the section where it says "Have a bonus/promotional number?" at the Sears checkout.
Don't forget that Sears.ca are also running the free shipping promotion on items under 10lbs in weight! Could make for some great bargains! For example, there are great deals on Tonka and Matchbox cars – e.g. See the "Tonka 'Flashlight Force' Dump Truck" for only $4.47! Or the "Matchbox SUPERMAN Adventure Set" for only $4.97!!
Apparently, items are selling out quite fast and in some cases between the time of adding to cart and going to checkout to make payment. Shop fast! However – don't forget to price compare with the likes of Amazon.ca and Chapters.ca before you finalize your purchase.
Thanks for the pic Brian Auer.