Sears Canada Mother's Day Lancome Special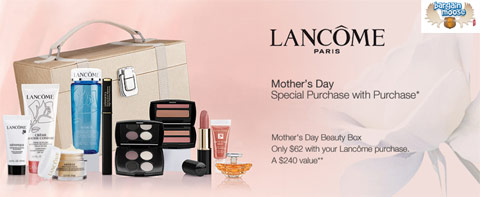 Over at Sears Canada, they have a special deal just in time for Mother's Day, which is at the start of next month. If you purchase any Lancome product, you can then purchase a gorrgeous gift set for $62. The gift set is actually worth $240, so it's great value.
The $62 beauty box set contains the following cosmetics:
Lancôme Bi-facil - Double Action Eye Makeup Remover – 125 mL
Lancôme Definicils -  High Definition Mascara – Black – 6.5 mL
Lancôme Color Design Sensational Effects Eyeshadow  – 1.52 g
Lancôme Crème Mousse Confort – 60 mL
Lancôme Trésor -  Deluxe Miniature Eau de Parfum – 7.5 mL
Lancôme Genifique -  Youth Activating Concentrate – 15 mL
Lancôme Blush -  Subtil Delicate Oil-Free Powder Blush – 2.55 g
Lancôme L'Absolue  - Rouge Exotic Orchid Advanced Lipcolor – 4 g
Lancôme Absolue -  Precious Cells Advanced Cream – 15 mL
Lancôme Juicy Tube -  in Rose Quartz – 8 g
Lancôme exclusive deluxe train case
If you really want to be a true bargain hunter, you can find the cheapest Lancome product on the Sears Canada site. I think it might be this Lancôme Le Vernis in Indigo, for $21.
P.S. Remember to click "add gift to cart" which you click the above link to Sears Canada. The deal isn't automatic, you must add it to your cart to take advantage.
(Ends 7th May 2010)