Rubbermaid Storage Sale: 28-pc Sets only $8.88, 40-pc Set Only $12.88 @ Walmart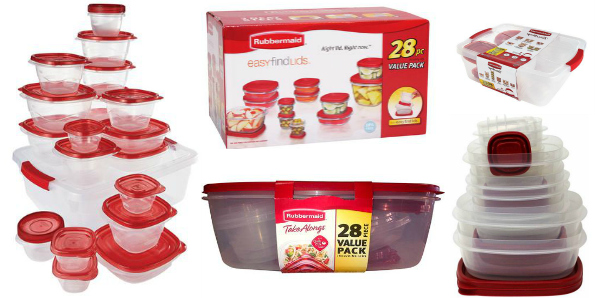 Rubbermaid is the queen of storage sets for your kitchen, pantry, crafts room, kids' lunch kit, and more. They produce a variety of sizes and styles of storage containers that can be used for everything from macaroni to crayons. I found a selection of sets on sale at Walmart Canada: there are two 28-piece sets on sale for $8.88 each and a large 40-piece set on sale for $12.88.
Let us start with the great big pack - the ultimate in storage for the best price. The Rubbermaid TakeAlongs 40-Piece Food Storage Set is on sale for just $12.88 - a phenomenal price for a set this large. The 40-piece Rubbermaid set comes packaged in a large 3.3 litre Cleverstore plastic storage box. These TakeAlong containers have Quik Clik Seal lids - the lids click in place so you know the contents are secure. The lids also have ridges for stacking together when in use and not in use. The bottoms - containers - have graduation marks so it is easy to measure the contents.
I really like the large 3.3L container these come in: you could reuse it to store toys or linens. However, I would use it to store the Rubbermaid containers when they are not in use just to keep them neat and tidy.
There are also two 28-piece sets on sale for $8.88 each:
The Rubbermaid 28PC TakeAlongs Food Storage Set has the same features as the above set - just in a smaller pack. There are also different size storage containers in this set. Whereas the 40-pc set comes stored in a 3.3L box, this storage set comes in a 5.7L box. From what I have heard, this set comes with more 'large' containers than the 40-piece set above.
The Easy Find Lids 28 Piece Set is a fan favourite. The lids on these snap together and to the bases of the containers so you can always find the right lid. Storage is a cinch as the containers are graduated: they nestle inside each other for compact storage. Each lid also fits multiple bases so you should never be without a lid.
As with all Rubbermaid sets, these three sets are microwave, freezer, and dishwasher safe. Other Rubbermaid storage containers are also on Rollback at Walmart Canada. Receive free shipping to your local Canada Post location or free shipping to your home on $50.
(Expiry: Unknown)