Rona Canada: Great 6 Piece Patio Set For $99!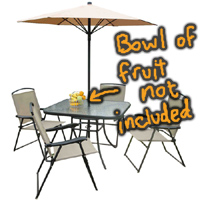 This is an in-store only deal from Rona Canada, if you're lucky enough to find one at your local store! They're selling a great little 6 piece patio set for less than a hundred bucks!
Click here to see the deal @ Rona Canada
The brown and beige patio set includes 4 folding chairs, a table, and a big umbrella. It's a great price for a handy little set.
Of course it might last you a year or two, I guess it depends on how you take care of it and store it when not in use. But for this price, a definite bargain.