Playskool Rock, Ride 'N Stride Hippo Was $45 | Now $25 @ Walmart.ca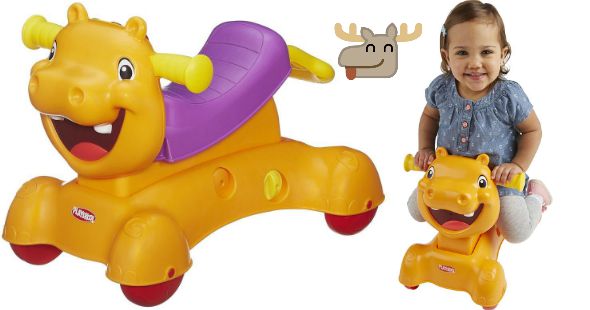 If you have an infant on your hands, then you are probably excited for them to get up and start walking. For a little help and fun they can use this Playskool Rock, Ride 'N Stride Hippo Toy which happens to be on clearance sale at Walmart Canada right now. Instead of paying the original price which was $44.94, you will pay just $25. Walmart.ca has a few different shipping options available as well.
This 3-in-1 Playskool Rock, Ride 'N Stride Hippo will grow with your child right from the early stages. This toy will help encourage your tot to walk, rock and then ride. For just $25 you can't go wrong. This item compares at almost double that low price at other Canadian retailers. My son enjoyed his dinosaur version of this toy from age 6 months and even still he rides it around our basement while I do laundry. So needless to say I definitely got my money's worth out of this toy, and I even ended up paying full price.
Here is a quick look at the prices other Canadian retailers have listed for this 3 in 1 Playskool Rock, Ride 'N Stride Hippo:
$44.99 @ Groupon.com
$50 @ LondonDrugs.com
$59.97 @ Amazon.ca
This toy is best suggested for children ages 9 months and up. This three-in-one Hippo toy will help your little one develop their balance, coordination, gross motor skills, and and also help them to learn to walk and hang onto handles to walk and balance. Once your child has gotten through stage one of this toy, it easily converts into a scooter to rock on or a ride-on toy. There are over 25 different lights, buttons and noises for your kiddo to interact with including animal sounds, music and more. There are also four motion-activated songs activated by the motion of your child.
When it comes to shipping options, Walmart.ca has a few different ways to get your purchase to you. If you spend over $50 you will get free shipping right to your front door. Otherwise your best bet is to have your purchase sent to your local Canada Post Office for totally free, no matter how much or how little you spend. There are always the Grab & Go lockers as well in certain areas. I know the Greater Toronto Area has them in most Walmart locations and they are free and quite convenient.
(Expiry: Unknown)