Office Depot Canada: $20 Off $100 Printable Coupon + Code
Office Depot has come back with their $20 off $100 offer, both in the printable form, and with a code you can use for your online purchases. Unfortunately this coupon excludes electronics. This however could be a great coupon to use against office furniture, office supplies, even some early back-to-school shopping.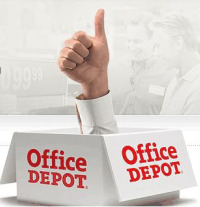 For online use:
Coupon Code: 32089321
Discount $20 off $100
Expires: July 23, 2010
For in-store use:
You will notice there is a bunch of other product specific coupons attached to the $20 off $100 that are both for online and offline use as well. Maybe some of those can be of additional use to you.
I could really could use a new office chair. The last time I was at Office Depot they had one promoted by the Chiropractic Association. Now that would be worth looking into as my back is killing me!