Modern Furniture: Union Square Office Chair Was $340 | Now $247 & Free Shipping With Exclusive Coupon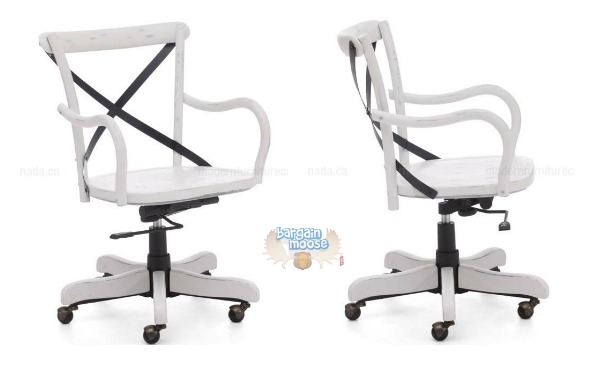 I just happened upon the store ModernFurniture.ca the other day. I was seriously pleasantly surprised with the gorgeous furniture they have and my mind went to "I want all the things" mode immediately. I am designing a home office for myself and have decided I want it to be modern and industrial in style. This Union Square office chair will fit perfectly within that style. It was great to see that it was on sale from $339, down to $257. It was even better when I found out we have an exclusive coupon code that gets me another $10 off, so I'm only paying $247 for this gorgeous chair. Use the coupon code BARGAINMOOSE to see your $10 discount on any item from Modern Furniture.
While this might not be a chair I'd want to work in all day, it looks really good with antique metal accents and a solid wood frame. This one is white, but the natural is also on sale, from $389, down to $359.55 with coupon added.
Lowe's carries this chair in antique black or natural for $450. Bay Design carries it for $407 in the black. Those are the only Canadian retailers where I see it for sale. Other than those, Amazon.com carries the white for $308.45 USD. The price at Modern Furniture far beats out everyone else.
There are other clearance deals to be had, and this coupon is applicable to anything on the site. Because they have free shipping on orders over $50, you could do separate orders to make the most of the coupon and still get free shipping. We have had this coupon for a while, but we haven't mentioned it to you yet and I think you deserve to know about this great site.
I am also eying up this Boudiur chest, which would so gorgeous in a dining room or even in my kitchen. Regularly $889, you'll get it for $627.
You can see all of the deals here, with up to 50% off a large number of categories including art and lighting as well.
(Expiry: Unknown)