Mainstays Rougemont 5 Piece Cushioned Dining Set Was $196 | Now $100 & Free Shipping @ Walmart.ca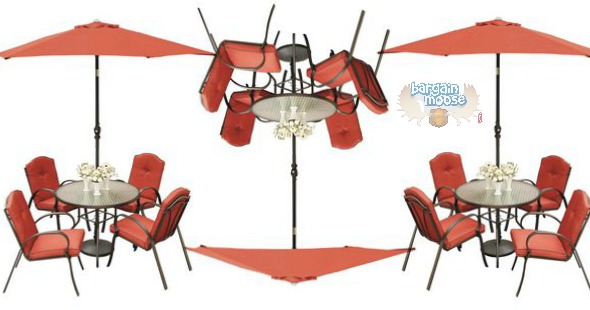 I moved into my new home during these cold Winter months, but I cannot stop thinking about how to spruce up my patio space for the Spring and Summer. You might be in the same boat. Walmart.ca has the Mainstays Rougemont 5 Piece Cushioned Outdoor Dining Set for just $100 instead of their original price which was $196.
This might be your opportunity to grab a patio set at a great price. You can use this set to create your own little escape from everyday life right in your back yard or on your deck. This 5 piece patio dining set is classically styled. The red cushions are sure to grab attention from guests and visitors.Luckily, the cushions are also made with a strong polyester fabric that is pretty resilient. From previous experience with this material, when you spill your lovely mixed drink when laughing too hard, you can easily wipe it up or hose off the cushions later. Either way, you will be left with a beautiful space for your family BBQs and outdoor get-togethers.
This set from Walmart Canada includes four chairs and the glass table. The tempered glass tabletop is safe and held up by a heavy duty steel frame. The table can also accommodate most standard sized umbrellas, which are unfortunately sold separately. You could probably get away with a black or red umbrella.
From reading some of the 27 reviews, I gathered that this Mainstays Rougemont 5 Piece Cushioned Outdoor Dining Set is good quality for the low price. This set holds a 4.5 star rating from Walmart Customers. One of the reviews reads:
Bought this a few weeks ago and it sure looks sharp in red. The cushions on the chairs are actually fairly decent. Comparable at other locations for easily double this price. Easy to assemble too! Make sure to buy the matching umbrella too!
I kept reading the reviews so I could tell you about any downsides to this patio dining set. It appears that the chairs are not stackable for storage, which might be a deal breaker if you have limited space for storage in the Winter. I have a two car garage, and only one car. I can store mine. Other customers also complained that the assembly was tedious, but what can you expect really?
You also won't have to worry about any shipping fees. Walmart.ca has a great shipping policy! Spend as much or as little as you like, you will still receive free standard shipping on your order. Even when it is larger items like this dining set.
(Expiry: Unknown)