Loving Family Convertible Doll Car Was $20 | Now $7 @ Walmart.ca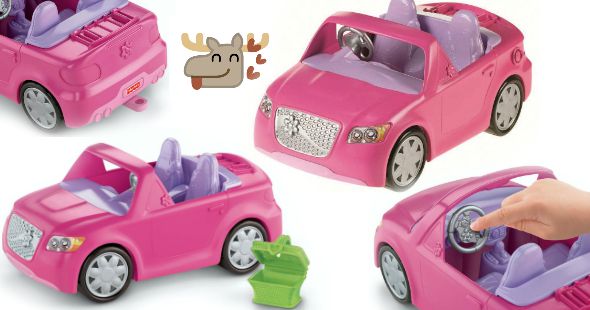 Every little girl plays with dolls at one point or another, right? So chances are that any little girl will love this Loving Family Convertible Doll Car. This adorable little pink car happens to be on clearance sale at Walmart Canada right now for just $7, which is an unbeatable price compared to the regular $20. Walmart.ca has a few different shipping options.
Time for your daughter's dolls to cruise in style with this Loving Family Convertible. This convertible regularly sells for $19.97 at Walmart Canada, but you can shop online and grab it at the low clearance price of just $7. This is by far the best price around for this little toy vehicle, so if you're going to grab it don't wait long. Amazon Canada sells this Fisher-Price toy on sale for $25, so you can see the comparison.
The Loving Family Convertible is a superb way for your kiddo to imagine their dolls having some fun in the sun and feeling the wind in their hair. It also will compliment any cute dollhouse well. This pink convertible has two seats and lots of details and sounds. You can push on the steering wheel to make the car honk or press the steering wheel again to hear fun songs that are great for a cruise with the roof down. The car also comes equipped with a picnic basket for your daughter and her dolls to pretend to hit the beach and have a picnic.
This Loving Family Convertible even has great reviews on the Walmart Canada website, which is always a good sign. Honestly when I see bad reviews on a toy I get really hesitant about the purchase, even if it is a steal of a deal. Bad reviews mean that my son could be disappointed, and nobody wants to buy a toy for their kid just to be disappointed right?
While the Loving Family Convertible Doll Car can be used with many other types of dolls, your kiddo may desire the Loving Family Dollhouse as well. The Fisher-Price Loving Family Dollhouse can cost you upwards of $100, but Amazon.ca has it for the cheapest price. Amazon Canada is selling this adorable dollhouse for just $89.99 while other Canadian retailers like Toys R Us are selling this toy for upwards of $119.99.
(Expiry: Unknown)