KidKraft Austin Toy Box Now $90 Shipped @ Amazon Canada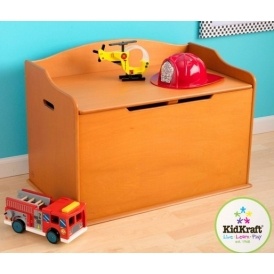 All these toy sales - where are we going to store them all!? I know I would love a toy box that could be covered, so the toys look neat and tidy inside. Check out this KidKraft Austin Toy Box in the beautiful honey colour. It is on sale for $89.99 including shipping down from $143.35.
The KidKraft Austin Toy Box will not only tidy and conceal all sorts of toys, but it also looks decorative in any room or nursery and works as a bench too. When assembled it will be about 30 inches long by 18 inches wide by 19 inches tall.
At other Canadian retailers this very same toy box sells for $120 to $170, so this is a great bargain especially considering the shipping and handling charges are included. This colour stain could even be personalized by painting your child's name or favourite characters on the front or lid.
Shipping is free on this purchase, since it is over $35.