Kid Connection My Happy Family Doll House Was $30 | Now $15 @ Walmart.ca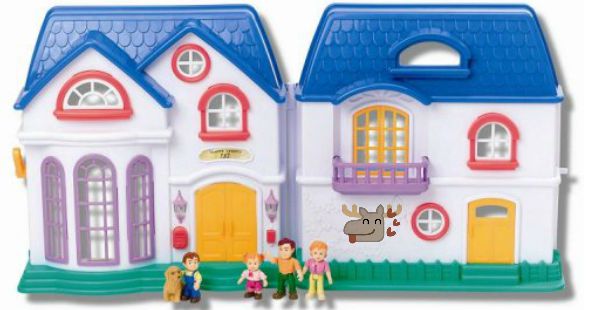 Soon enough the kids will be stuck indoors playing for the most part, so it is time to invest in toys and activities to keep them entertained indoors. Right now Walmart Canada has this Kid Connection My Happy Family Doll House on clearance sale from $30 down to just $15. Walmart.ca also has a few different shipping options available.
This 18 piece Kid Connection My Happy Family set is a steal at just $15. Your little ones are bound to spend endless hours imagining their little toy family living in the house. This set is best suited for children ages 3 to 5, but I am sure girls that are a little bit older will enjoy it as well. Not only is winter coming, but Christmas is fast approaching as well. We need to be frugal minded and start our shopping now so that we can get deals like this on for half price and save money on our total spend on Christmas gifts.
There are 2 AA batteries included which will make the door bell ring when the button is pushed, and the lights can turn on and off. This doll house will come to love with the free moving furniture, door bell and dolls that are included. There is a total of 18 pieces included with this doll house, which is plenty to re-arrange for a mansion makeover by moving the furniture from room to room. You can even add more furniture with different Kid Connection sets or similar sized dollhouse items if you wish. The opportunities are endless and your little girl is bound to be excited.
This set is also easy to store and travel with. The doll house can fold up with all the furniture accessories and family figures. You will find your daughter carrying this adorable little house from room to room. It looks like this set even comes with a little pet dog and a floor mat to give your kids even more rooms to imagine. I kind of want to check it out myself, too bad I have a son!
As far as shipping goes, there are a few different options from Walmart.ca. If you spend $50 or more you will get free shipping right to your home. Otherwise you can opt to have your purchase sent to your closest Canada Post Office for free. If you have a Walmart Canada location near you that offers Grab & Go lockers, then you can have your purchase sent there for free as well. You will just have to pick it up.
(Expiry: Unknown)