Inflatable Wings Only $1 & Free Shipping @ Walmart Canada!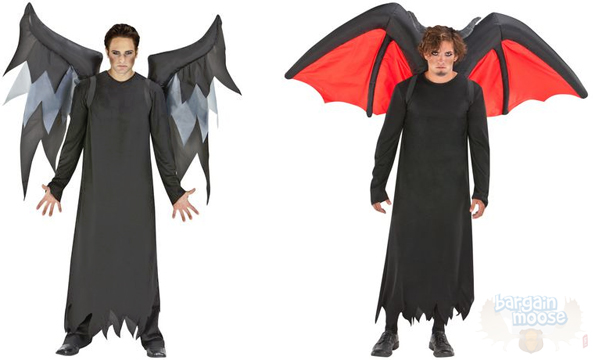 Once again, the hot prices on weird and wonderful items in the Walmart clearance section have inspired me to write a blog post. Today, I've spotted these Inflatable Demon Wings (top left) or Devil Wings (top right) for only $1 including free shipping!
I actually spotted the devil wings in the clearance section at Walmart a few days ago. At that time, they were priced at $2.50 and I was considering blogging them but I changed my mind. But now, I've spotted that they have dropped in price to only a DOLLAR with free shipping – so I must blog them up now! What a bargain!
At this price, I do not think this deal will last very long. If you're interested – buy now! These would be a superb item to put away until next Halloween. Now, that's advanced preparation.
The costumes shown on the Walmart site are pretty basic – the wings are paired with some basic black outfits. But you can use your imagination to make some more wild and wacky outfits to go with your new inflatable wings. They could also be used all year round - I've often been to costume parties which are not actually on Halloween.
I googled for demon costume ideas, and there are so many to choose from. So, I am sure you can use the likes of google and pinterest to add details to an outfit, in pairing it with these wings.
(Expiry: unknown)