Hot! DeWalt 18V 1/4 Inch Impact Driver Now $62 & Free Shipping @ Home Depot.ca (Expired)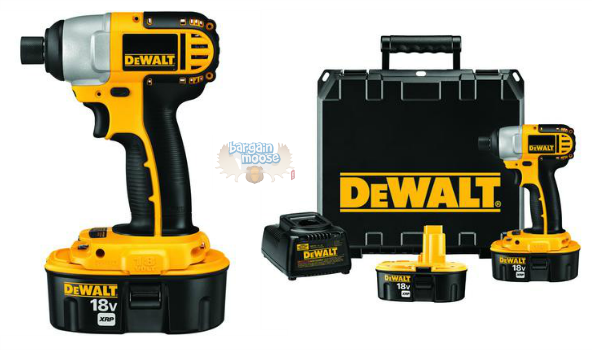 Home Depot just discounted a great Dewalt Impact Driver. While they do not include the original price, similar Dewalt Impact drivers start at $129 and only go up from there. You can steal this impact driver for only $61.96. Free shipping is also included with this item as it exceeds the $49 minimum.
If you have a major home improvement project in the works, this is the deal for you. The price on the Dewalt 18V ¼ Inch Impact Driver just dropped to $61.96. A very similar Dewalt 18V ¼ Inch without the battery or charger is selling currently for $129 at Home Depot right now. That is a savings of 48% before you add the additional cost of an 18 volt battery. Upon going into my cart for a split second, an original price of $249 was shown on this driver before it quickly changed to the new price. I would grab this driver fast, as it is already showing to be on back order at Home Depot. You can still purchase it as this great sale price, but it may take a few extra days before you receive it.
This is an impact drill from Dewalt is a kit that includes a case and two batteries. An extra battery is a nice feature so you will not have to stop your project to recharge. Dewalt is one of the top competitors on the tool market. You know with this premium brand you are getting a quality tool that will stand up to home repair abuse. If you are skeptical, Dewalt has a 3-year warranty on this driver to ensure it will take you the extra mile. Drive screws with no pilot holes easily with the 1,330 in-lbs of torque in this driver to help you get the job done.
If you are a tool novice, you might be wondering why you need an impact driver. A regular electronic screwdriver functions on many jobs. If you are installing cabinets, hanging gutters or any other project where you need to drive many screws into the woodwork, an impact driver is much more efficient. Check out this article from Popular Mechanics about the differences between a traditional power screwdriver and an impact driver for a more detailed description.
Looking at the competitors, this exact impact driver including the battery and charger is currently being sold on Amazon.ca for $171.99. Lowes.ca has this same impact driver available without the battery or charger for $129. Canadian Tire is selling this Dewalt impact driver, but only as part of a set with a power drill for $289.99. This is a much hotter deal at Home Depot.
Reviewers seem happy with this impact driver and thrilled that it stands up to home repairs and projects. Here is one happy review:

I would grab this one fast. With the driver already in backorder, it probably will not be long before the deal is gone. Free shipping is also included to sweeten this deal further.
(Expiry: Unknown)