Homesav Canada: Sale On Gourmet Cookware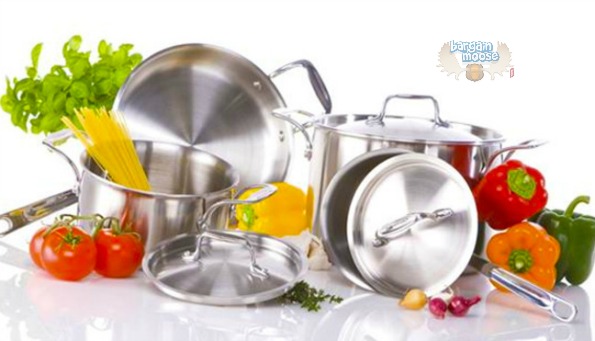 Homesav Canada is offering cookware at great prices.  Everything from roasters, casserole dishes and skillets to complete cookware sets.  Offer is valid until September 19th 2012, or while supplies last.
I guess it is that time to think about a little less cooking outside and more inside.  This sale should help with all the different items available.
As far as the cookware sets available, I do rather like this Cool Kitchen 3 Mirror 11 pc set that was $590 and is now $379.  The set includes a 16 cm saucepan, an 18 cm cover casserole, a 26 cm cover casserole, a 24 cm cover sauté pan, an 18 cm steamer skillet with cover, a 20 cm skillet and a 28 cm skillet.  All pieces are 3 ply stainless steel with ergonomic handles.
The set above just about covers all the pots and pans, but what about roasters?  This Cool Kitchen Pro S/S Roaster is a perfect size for all dishes.  This was $124 and is now $64.  Not only is it a wonderful 12" X 14", but it's made of stainless steel with an aluminum plate making it great for baking, roasting or even broiling.  This pan is safe to use on a stove top element as well as safe for the dishwasher.
I also like to have a good wok around for those stir fry nights and this Cuistot Wok w/Cover that was $90 and is now $69 is a great size for all the ingredients I like to use. I tried one of those electric woks a long time ago, you know the one, it was Teflon lined so nothing would stick.  Not a great experience.  I think I'll stick to the old fashion wok and enjoy my stir frys.  It just takes the right temperature, the right oils and lots of patience.
Shipping: Free for orders over $100.
(Expiry: 19th September 2012)