Homesav Canada: Discounted Prices On Nuvo Accents Stainless Steel Accessories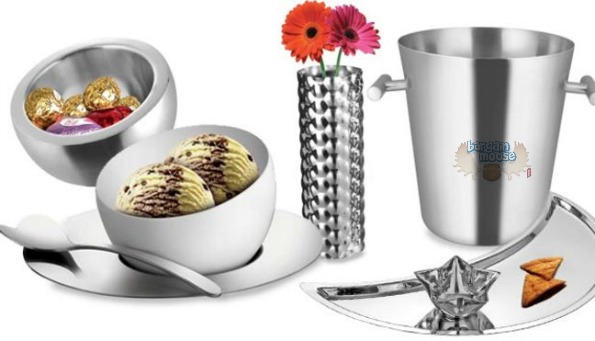 Homesav Canada has Nuvo stainless steel accents on sale and free shipping with most items.  Sale is valid until January 25th 2013 or while supplies last.
I've always liked having a nice bread basket for display on a dinner table and this Oval Bread Basket w/ Matte finish has a wonderful modern clean look.  This is stainless steel and 3.5"H X 8"W X 8"D, so a perfect size as well.  It is not recommended that this go in the dishwasher; hand wash and dry is preferred.  This was $40 retail and is now on sale for $34.
I also like this Circular Chip Platter that was $59 retail, now only $44, and is for so much more than chips.  The platter is 1.5"H X 11.5"W X 11.5"D and has a simple little white porcelain bowl in the centre. In our house, these are mostly used for veggies and dip, or homemade hors d'oeuvres.
This Crown Wine Bucket was $46 retail, is now $38 and would add a great finish to the table.  This bucket with the other two items above would be perfect for having a small get together and serving a few goodies.  The dimensions are 7"H X 7.5"W X 7.5"D and of course, it's stainless steel.
The Medium Salad Bowl would be big enough to suit my needs as it is 3.5"H X 9.5"W X 9.5"D, a perfect family dinner salad size. This was $59 retail, now $44 and I'm sure it could be used for many more things, but since we eat a lot of salad it wouldn't get the chance.
There are many other items in here, much fancier and for many more functions, but I like to keep things simple so that's all I would like.
Shipping: Free with orders over $100.
(Expiry: 25th January 2013)