Home Outfitters Canada: Spend $50 Get $20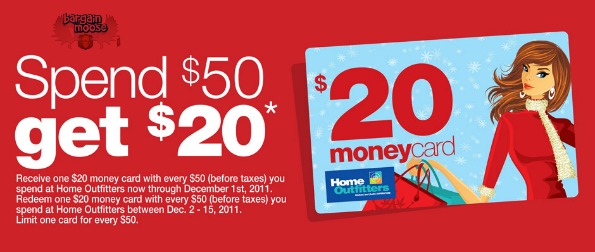 Until 1st December, 2011, spend $50 at Home Outfitters and get a $20 money card back. You can redeem the $20 card with any $50 purchase between 2nd-15th  December, 2011. Limit one card for every $50.
I'm stopping there today to pick up a set of two 4 foot porch trees with urns that are on sale for $39.99 (reg. $79.99). There is a limit of 4 per person.
Home Outfitters has a lot of the same stuff that The Bay does for kitchenware, but often much cheaper! We once found a set of pots and pans at The Bay and when we went to Home Outfitters there were $100 cheaper. Its good to price compare between the two.