Home Depot: Sunjoy Fiji Bar Set (Now $460, Was $549)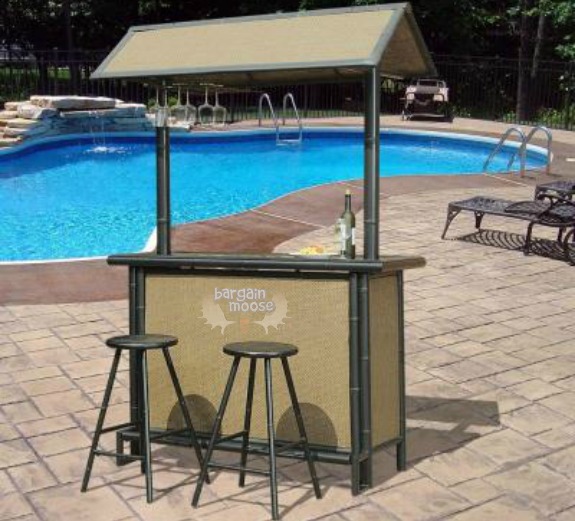 Create a retro backyard oasis with a Sunjoy Fiji Bar Set from Home Depot Canada, now only $460 (reg $549). Available online only.
Home Depot offers one item each day in what they call the "Hammer Drop".  Each item is only available for 1 day and only while quantities last. Today's Hammer Drop item is a Sunjoy Fiji Bar Set, which features two stools, built in wine glass hangers and two behind the bar shelves, as well as weather resistant fabric.
My neighbours bought this same set last year when they installed their pool. I thought it was a fun little touch of whimsy but wasn't too sure really how much use it would get. I noticed that at each BBQ or get together they did in fact put it to good use. Not just for beverage serving but also as a spot for condiments and toppings on the bar top, as well as for storing outdoor plates, utensils and napkins in compact plastic bins behind the bar on the shelves. This way the basics were at their fingertips. They also added plastic beverage dispensers to the bar top for guests to self-serve, versatile for both children and adult beverages. On one occasion, for a surprise 40th, the tiki bar was manned to serve as a traditional bar. So, as you can see this bar set can really be put to good use.
I shopped around to see if I could find a better price on this item, but it appears as though it's only available at Home Depot. However what I did find is that compared to other bar sets this item truly is a steal. For example:
Shipping is only $39 for this item. However, the expected delivery date for me is a bit of a disappointment at 3-4 weeks.
(Expiry: 23rd June 2014)