Home Depot Canada: 50% Off Carpet Installation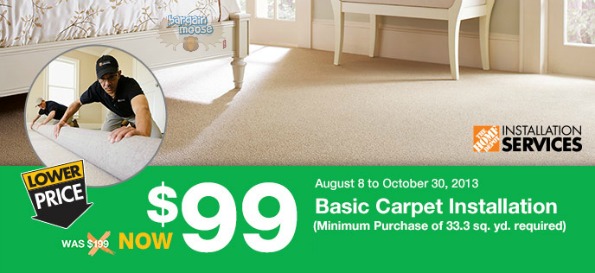 Get 50% off carpet installation from the Home Depot, on right now until the end of October.
If you are planning on moving or can't stand looking at your worn, stained carpets any longer, now is the time to get new carpets installed at half the price. It will only cost you $99, rather than $199 to get your carpets put in. You do have to have a minimum purchase of 33.3 sq. yards of carpet from Home Depot. This sounds like an amazing deal and when I told my husband about it, he wondered about any catches. It doesn't say that there are additional costs for a huge amount of carpet, but this is what he is thinking. I'm going to go the optimistic route and assume Home Depot just wants you to buy the carpet from them and is willing to install it for only $99, no matter how much space you are looking to carpet.
Not just will they install the carpet, they can also remove existing flooring and move any furniture. I'm sure there will be an additional cost for this as it says basic carpet installation. All installers are skilled, licensed, with background checks approved.
You'll have to go in to the store to choose your carpet, but the Home Depot specialist will come to measure and assess.
(Expiry: 30th October 2013)