Heys Canada 21" Suitcases from $92 @ Hudson's Bay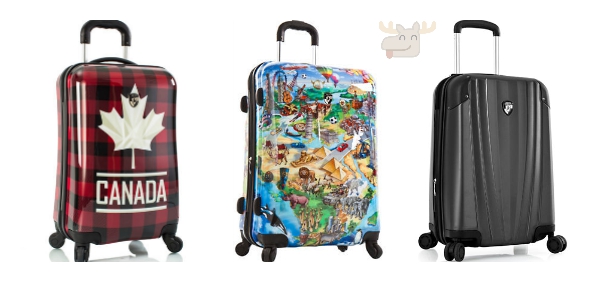 If you are looking to avoid paying extra fees for checked baggage this winter, then spring a little extra money towards a 21" suitcase that you can carry on the flight with you. Heys is my favourite brand for luggage and is well loved by Canadians everywhere. Right now a selection of Heys 21" suitcases is on sale from $280 - 300 down to $112 - $124. I am going to focus on the $112 and the $120 luggage that comes down to just $92 to $100 per piece when you use coupon code FALL for $20 off $100.
For the most inexpensive piece of Heys luggage, try the HEYS Velocity Hardside Spinner 21 inch on sale from $280 down to $112. After you apply the coupon code above, your HEYS 21" suitcase comes down to $92. The two other colours (blue | black) are $124 each so not worth picking up with the grey being cheaper and there also being a couple other gorgeous suitcases on sale for less.
To show your true Canadian roots, this HEYS Canada Flannel 21 inch Suitcase is just the ticket. Originally $300, the suitcase is now on sale for $120. After promo code, pay just $100. This is truly for a 'proud to be Canadian' who doesn't mind their luggage being a bit flashy.
Next, we have the HEYS Stratos 21 Inch Suitcases in either red or black on sale from $300 down to $120. Each suitcase will come down to $100 after promo code. If you like the Heys brand but do not like hard-sided luggage, then this just may be the best option for you. Besides, you can choose from two colours.
Last is my favourite luggage that I keep meaning to buy. The HEYS It's a Small World 21 inch was $300, is on sale for $120, and comes down to $100 after coupon. I love the graphics on this luggage; it is like a child's story book with all the wonderful sights around the world to see. I already have a perfectly fine set of luggage, but this piece really speaks to me.
The coupon will work once per order, so I recommend placing separate orders if you want more than one piece. Free shipping is at $99 without an HBC card or $49 with an HBC Card. I highly recommend the HBC card as it is free.
(Expiry: 24th September 2015)