Fire Truck Toddler Bed $165 Shipped @ Costco.ca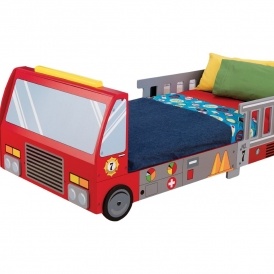 What kid wouldn't love this little bed? Costco.ca has this Fire Truck Toddler Bed in their Hot Buys section for $164.99 including shipping. You won't get a better price on a bed like this anywhere else, and this is definitely going to make bed-time a lot more fun and welcoming for the kids.
Cute toddler beds are hard to get in an affordable price range - especially ones as detailed as this. Any little boy (or fire-truck loving girl) is going to have a huge grin seeing this bed in their room.
To give you an idea on price at other retailers, this same bed sells for $249.99 @ AllStarLearning.ca, $229.99 @ Amazon.ca, and $226.99 @ Well.ca.
This Fire Truck Toddler Bed comes complete with the ladder cut outs on the side that also work as a bed rail. The mattress is not included, but you probably already have one from your child's crib if you are in the market for a toddler bed. There is even a nifty little storage compartment for your child's favourite bed-time story.
Costco.ca includes shipping and handling on this item - which is awesome considering it is a rather large item.
(Expiry: Unknown)