Febreze Products From $2 @ Walmart.ca!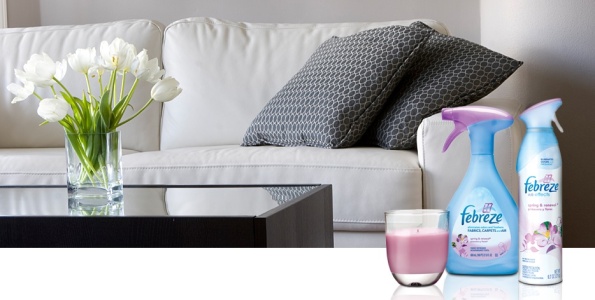 With pets, kids and husbands - it can sometimes be impossible to keep the entire house smelling clean. My laundry room has kitty litter boxes and gym bags, so I love to spray a bit of Febreze before company comes over. Right now Walmart.ca has Febreze Products on sale for up to 63% off - with prices as low as $2. Walmart Canada has a few different shipping options as well.
There are quire a few Febreze products on clearance sale right now, and I may have gone a bit over board. You can never have enough smelly stuff - right? Right. Let's get started then!
The Febreze spray cans are great when you need an area to instantly smell good and for the smell to last. You can get the Febreze Air Effects Gain Moonlight Breeze Air Freshener for just $2, it was originally priced at $3.97. If you want the area to smell good at all times, then you may want to check out the Febreze Set and Refresh Advanced Odour Eliminator Air Freshener Refill. This comes with two cartridges to insert into your Febreze Air Freshener Case. They were $5.97 but now you can get them for $2 - $4. You can get this scent for the same price.
And if you have the spray fresheners that you mount to your wall or set on your desk, then there are quite a few scents on sale right now. The spray fresheners will spray the room with a nice scent every 5, 10 or 15 minutes on a timer. I used to use these in my kitchen when company was over, but the smell can surely get strong after a long period of time. If you use them in your bedroom then you may like the Febreze Sleep Serenity Bedroom Diffuser, NOTICEables which is on clearance from $5.47 down to $2. I also like the Febreze Unstopables Fresh Pluggable Scented Oil Refill. It was $7.97 and is now just $4.
When it comes to shipping, you have three options. You can spend $50 and get free shipping to your home. Or you can opt for free pickup with no minimum purchase at your local Canada Post Office or Walmart Canada Grab & Go Locker.
Moosers, do you use Febreze?
(Expiry: Soon!)