Disney Sleep & Clothing Sets From $5 + FS On $50 @ Walmart.ca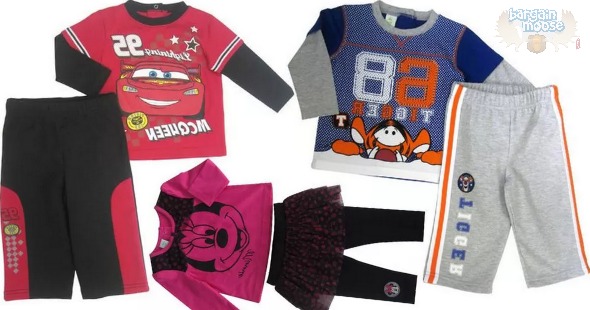 The best feeling is sleeping in new cozy pajamas. Walmart Canada has a variety of sleep sets on clearance set from $5. These Disney pajamas sets are the perfect way to get your kids to crawl into bed with a big ol' smile. You can even get free shipping on all orders over $50.
Ka-chow! Humour your Cars obsessed child with this Disney 2 Piece Cars Set. This set was originally priced at $14 but is now just $5. This set even looks like it could be worn as casual clothing, not just pajamas. There are three sizes available for this two piece Cars set. You can select 0-3 months, 3-6 months and 6-12 months. The Cars theme seems to be pretty popular. There are quite a number of Disney Cars Sleep Sets for just $5 at Walmart Canada.
Tigger was a popular character when I was a kid, but I don't see many kids wearing Tigger and Winnie The Pooh attire anymore. If you want to relive some childhood memories of your own, check out the Disney Tigger 2 Piece Set for little boys. This set was $14 and is on sale now for just $5. At this time only sizes 0-3 months and 6-12 months is still available. I would snag these quickly. This pants look like little jeans and are super adorable. Here's another Disney Tigger Pant Set on sale from $14 to just $5. I actually have this particular set for my son and loved it. They seem so comfortable and were great for a day at the playground.
For the little ladies, the Disney Minnie 2 Piece Set is super adorable. This set was also $14 at regular price and will only cost you $5 right now, while supplies last. This is another set that could most likely be worn casually and not just as pajamas. Actually, the adorable little skirt may make it rather uncomfortable for sleepwear. There are a few variations of this two piece set for both kids and babies.
Gone are the days where shipping was free no matter what you purchased at Walmart.ca. Now you must spend $50 or more to get free shipping right to your home. Otherwise, you can still have your order delivered for free to your local Canada Post. If you are withing the Greater Toronto Area, you can opt for the Grab & Go box delivery too and grab your order from your closest Walmart store.
(Expiry: Unknown)