Disney Frozen Small Doll Elsa Castle was $50 now $25 @ Walmart.ca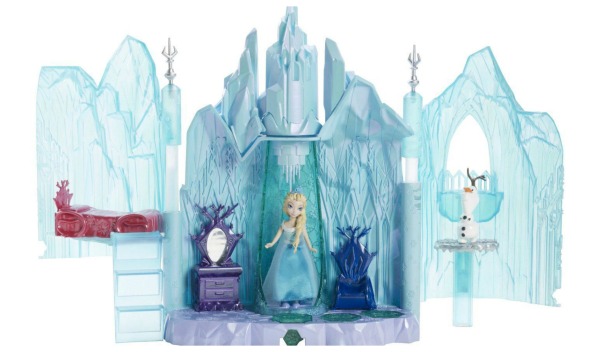 During Christmas 2015, we were able to see that the Frozen craze was still upon us! Kids everywhere are still obsessed with Frozen, and the shelves were stocked with Frozen products for the holidays. Now that post holiday sales clearance sales are well on their way, retailers are clearing out their toy inventory to make room for new products. This Disney Frozen Small Doll Elsa Castle, pictured above, is on clearance right now at Walmart Canada online. Its original price was $50 and it's now reduced to $25.
I think this is one of the coolest Frozen play sets I've seen. All I see in stores is Frozen "themed" stuff, and dolls. This is more of an action set, because let's be honest, the coolest part of Frozen is Elsa's humongous castle! This castle is way more fun to play pretend with than just the Frozen dolls, Anna and Elsa. Instead, your kids can reenact the Let it Go theme song with this castle, if they haven't already.
This castle set includes two figurines: Olaf and Elsa. As for other accessories, Elsa's bed, vanity and throne are also included. This castle alone has a couple of additional features. It has an elevator in which Elsa can travel up and down her castle. Elsa can also stand behind her curtain which hides her, then with a spin reveals her. The entire ice palace also lights up when you push the button at the base of the castle. It creates a light show ans also extends and expands. For easy storage, the castle folds up with all its accessories for easy storage.
I've tried to price compare this item and it was very difficult to find. Amazon lists this item at $62.70. The US Toys R Us lists this same castle at $39.99 US.  Either way, these prices depict what an amazing deal you're getting from Walmart. If Toys R Us is selling this set at $39.99 US, I can just imagine what price it would be listed at at their Toys R Us Canada website.
As usual, Walmart offers free shipping on orders over $50. If you aren't planning on purchasing for $50, you can always get this item shipped for free at your local Canada Post. The free Grab & Go Walmart shipping option is not available with this Frozen Castle.
(Expiry: Unknown)
Moosers, are you kids still obsessed with Frozen?