Canadian Tire: Save 50% Off 13 Person Broadstone Tent (EXPIRED)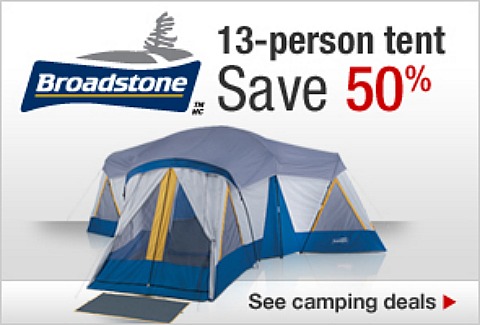 If you are planning on camping this summer and need some equipment, Canadian Tire has a great sale on the most important piece of camping equipment, the tent! Get 50% off the huge 13 person Broadstone Tent.
The Broadstone tent is on sale for $129.98 (reg. $269.99) until 15th July, 2011. The 21 x 17 foot tent has room for 13 with 4 separate rooms. Tons of room for a family and all their gear! I would never think that 13 people would actually stay together, but having done some tenting, this would be a great size for a family of 4-6.
One reveiwer rates it 5 stars, saying
This is an excellent tent and well worth the money as far as I am concerned. Setting this tent up is an ease, coloured coded poles go with fabric colour. Took two people less than 20 minutes first set up, no broken poles, no ripped corners, fly went on with ease. We are very happy with tent and are looking forward to more future uses of it.
This is an in store only deal at Canadian Tire.