Beyond The Rack: Aldan Retro Duvet Cover $34.99 (Reg $99.99)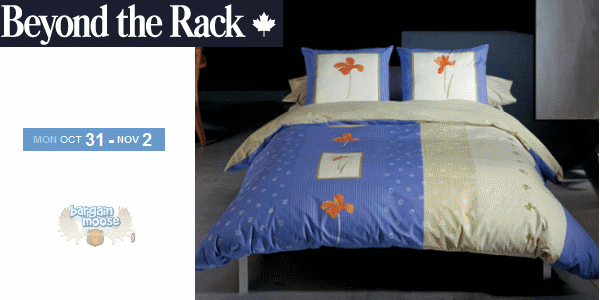 If you're like me and have a tendency to feel a little blah as fall moves in, surrounding us with drab, bare trees and leaf-covered and browning grass, then perhaps a touch of spring colour to brighten the bed where you will soon want to hibernate is in order. Beyond The Rack is offering an Aldan Retro Duvet Cover for only $34.99 right now.
It is in the "Luxury Down Comforters and more" section! And don't forget that new customers can get a free $10 credit in their account, read this Beyond The Rack post to find out more about that. This effectively makes the duvet only $24.99!
I did a little checking around with competitors carrying this item. Beyond The Rack beats their price on it by more than 50%.
There's one other thing I really like about this duvet cover: it's split down the middle into two different colours, clearly marking the fair share of the bed for those of us dealing with a partner who hogs the blankets.
This deal is on until 2nd November 2011.