Bargainmoose Contest: Win 1 of 3 Gift Cards to Create Your Own Photo on Canvas From Best Canvas Canada ($250 value)! (CLOSED)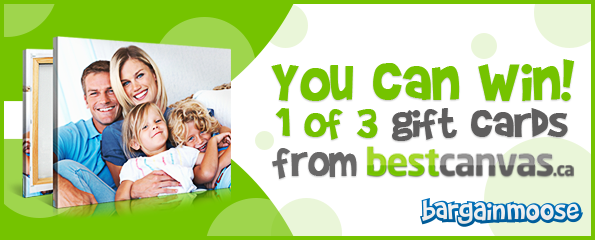 *** Contest now closed, winners were Stephanie, Vickie & James! ***
If you're anything like me, you have tons of pictures stored on your computer but aren't actually putting any of them to good use. Here's your chance to finally do something useful with them! First, enter this Bargainmoose contest for a chance to win 1 of 3 gift cards ($125, $100, and $50). Second, use it to create your own snazzy photo on canvas at BestCanvas.ca!
What I like about Best Canvas is their attention to some of the key issues in photo canvases. For example, canvases can fade in color over the years or the colors of your photo might not print well the first time around because of the quality of the linen canvas. Since this is a long-term purchase, something I'm hoping to hang on my wall and take for granted, I want to make sure that it will look good for years to come. That's why it's nice to see that Best Canvas has taken the time to get some quality inks and materials. Their prices are also pretty good.  In fact, if you find a lower price online they promise to beat it by 10%!
How to win your photo on canvas from BestCanvas.ca?
To enter this contest:
Describe the picture that you would print on canvas if you win!
Just comment below with your answer and you will get one contest entry.
Get bonus contest entries!
Leave a link to this contest on Twitter, ensure you include @bargainmoose.
Post a link to this contest on your wall, make sure you like Bargainmoose.
Pin this contest on your Pinterest & follow us there.
Finally, we can't all be winners, but we can all still save. Check out our exclusive 20% promo code from this store on the Best Canvas coupon codes page.
Rules:
Canadian entrants only
One entry per household
Ends 13th April 2014
Rules subject to change at admin's discretion