Barbie 2015 Holiday Doll was $50 now $20 @ Walmart Canada *HOT*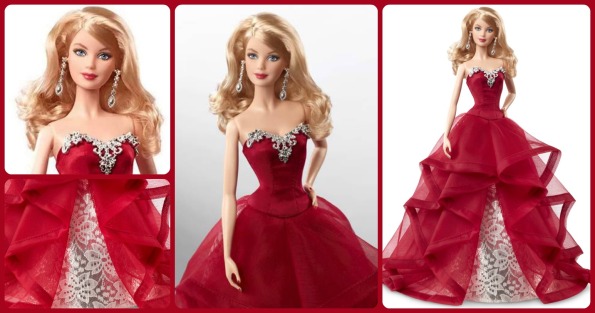 Here's a great deal for anyone who loves Barbie - whether it be an adult collector or a child who adores playing with these gorgeous dolls. The Barbie 2015 Holiday Doll would normally cost you $49.99, but is currently on sale for $20 at Walmart.ca. If you missed out on getting this doll for just $20 at Sears before Christmas, then now is your chance. Walmart has a few different shipping options to choose from.
This Barbie 2015 Holiday Doll is the Fair Hair version. The Dark Hair version is still up there close to the regular price, so this is definitely your better bargain. The Barbie Holiday Doll is a beloved yearly tradition that has been going on for over 25  years now. My aunt actually has every single one that has come out, so I had ordered this one for her as a Christmas gift last time it was priced this low. For $20 you really can't go wrong - toy or collectible. The last time this Barbie was priced this low she sold out pretty quick, so act fast.
This Barbie 2015 Holiday Doll is dressed in a beautiful, festive dress. You can either keep the Barbie as a keepsake or let your little ones play with it. For $20, you won't mind much if it just becomes a toy. This doll does come in a premium gift-able package that boasts a cute three dimensional Christmas tree. It stands 12" tall and even includes a doll stand. The reviews on this particular doll are pretty awesome. It seems that a lot of parents let their children play with this doll, but wish that they had left it on display. If that is the case, then maybe you better buy two before they sell out?
Walmart.ca offers free shipping on all orders over $50. So perhaps check out the other toys in the clearance section to reach that minimum spend. Otherwise you can have this gorgeous doll shipped to your local Canada Post Office or Walmart Canada Grab & Go Locker for compeletely free.
Moosers, will this Barbie 2015 Holiday Doll be a toy or a collectible in your house?