Bratz Create It Yourself Fashion Playset & Doll was $50 now $20 @ Walmart.ca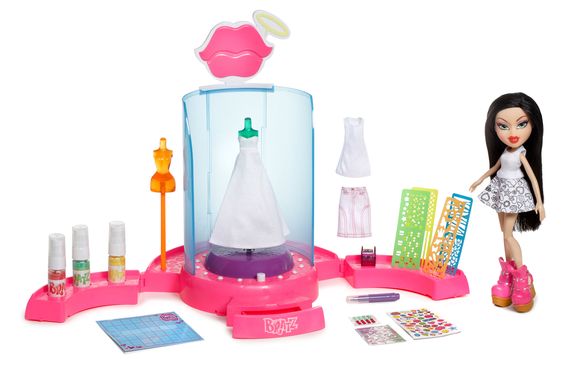 *Bump! This is now available at an even lower price!!*
Wow, I remember Bratz coming out when I was growing up. They sure have changed. If you have a little girl, then I bet she would adore this Bratz Create It Yourself Fashion Playset and Doll. It is currently on clearance sale at Walmart.ca for 50% off, which leaves you paying just $25 $20.
Now your little girl can design and create her very own Bratz fashion pieces with this playset. Make use of the combination of spinning dress forms, spray paint, stickers, rhinestones and stencils to design and decorate the dress, top or skirt that is included. These items can then be worn on their favourite Bratz doll, or even the doll that is included. The doll included is the Bratz Jade Doll.
There are no batteries required, so you won't have to purchase those separately. But you can buy the Bratz Deluxe Fashion Packs for even more outfit options. There are three sets currently on clearance sale at Walmart.ca. They were originally $18.86 but now they are just $12.97 so if you buy two and this Bratz Create It Yourself Playset then you will reach the minimum spend for free shipping.
Here are the three Bratz Deluxe Fashion Packs on clearance sale:
Each of these sets comes with two full outfits for two characters. Your daughter can have them on her Bratz doll matched and coordinated or even have some fun and mix them up. These would make fabulous toys  for any little girl between the ages of five and eight. Plus you won't find this Bratz Create It Yourself Playset for less anywhere else in Canada at the moment. This same set is $35 @ ToysRUs.ca and a super inflated $81.84 @ Amazon.ca.
Walmart Canada has three different shipping options available. For one, you can spend $50 and get free shipping right to your front door. If you don't spend that amount, there are two other free options as well. You can either have your purchase shipped to your local Canada Post Office for free, or have it sent to your local Walmart Canada Grab & Go Locker for free. Both of these options are free and require no minimum purchase.
(Expiry: Unknown)