Kate Spade (U.S.): Shoulder Bags Only $99 (Was $250)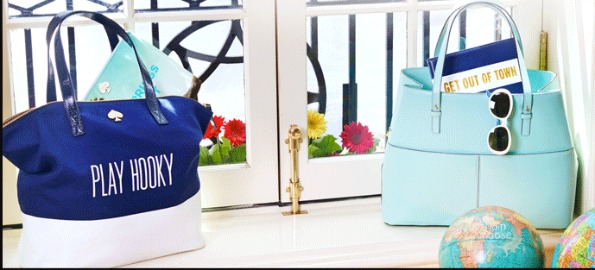 Kate Spade is having a surprise sale with up to 75% off all travel related items. I found some awesome shoulder bags on sale for only $99, with a regular price of $248!
While at first you might think $99 is a lot to pay for a bag, you need to see these bags. They are large bags that would fit all you would probably need for an entire weekend, they are great quality with materials like canvas and vegetable tanned leather and cowhide, they have gold plated hardware and custom woven linings. Plus, they look so amazing.
I really need a new weekender bag, as I often take short trips and I want something durable, functional and fashionable. I am in love with this play hooky bag as I'd really love to do that this week, with the hot weather calling me outside and I'm sitting here on my computer (sorry boss!).
If wording is not your thing, check out this south of the border harmony bag with a beautiful exterior pattern. This bag is not lined and made from grainy vinyl.
There are other types of bags on sale as well, during this sale, like this cobble hill travel leslie. This could also work as a weekender bag as it is quite large. I love the simplicity of it and the beautiful soft pebbled cowhide. This bag is a real steal with an original price of $648 and it is now $229, saving you over $400!
While this sale is on "travel items", there is also a section for "essentials to pack", which includes clothing and other items you'd need on a trip away.
Shipping to Canada is a flat rate of $10 and all prices are in USD. You may encounter duties and other fees being that it does ship from the United States.
(Expiry: 11th June 2014)