Handbags & Wristlets On Sale From $24 @ The Bay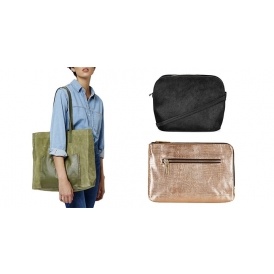 Don't you just love organizing a new handbag? Whenever I get a new one, it's so much fun to set it all up exactly as I want it. It's also such a relief to finally clean out my old handbag from the multitude of gum and mint wrappers, half of a Dad's oatmeal cookie in the wrapper, the crumbs from it in the bottom recesses of the bag, dental floss, lipstick, eyeliner, band-aids and more. Such as, important things like wallets!
This clearance sale at The Bay has handbags selling for 50 - 60% off of the regular retail price. Many of these ones are crafted from leather so they will be durable. One thing I love about Hudson's Bay is that the products I purchase there never leave me disappointed; they are always a high quality product.
I've been going through the Hudson's Bay website and found a few really good buys you will want to check out if you are currently battling the difficult hunt for a new handbag.
Sometimes when I'm going out, I only want to take a couple of things with me in my purse such as my phone, wallet, keys - and of course a lipstick. This black leather TOPSHOP Connor Whip Stitch Leather Crossbody Bag will be sure to feel light on your shoulders, and is only $26 down from $52.
I would enjoy having a clutch that can hold my tablet, wallet, and a few other items. This faux snake pattern TOPSHOP Zip Detail Clutch is selling for $26 down from $52. It is in a shade called 'yellow' but it sure looks like a beautiful rose gold in the picture. It is quite a roomy clutch, and looks classy!
Of course, this scenario is always familiar... when you're shopping and trying to stuff bags of purchases, big and small, into your current handbag and it's just too small. This black polyurethane TOPSHOP Ted Saffiano Shopper for $30 down from $60 will be the perfect size for shopping in the mall. Another larger style shopper bag that really caught my eye was this beautiful leather moss green TOPSHOP Thomas Leather Whip Stitch Shopper for $40, regular price $80.
OK, so I saved one of the best purses for last. This TOPSHOP Catford Leather Crossbody Bag is made out of black faux fur, and is literally THE perfect size for a daily purse. There is space to store your wallet, phone, spare battery charger, keys, cosmetics, band-aids, and more, without making you feel too weighed down. This one is on sale for $45 down from $90.
I could easily see spending over $99 to get the free shipping at Hudson's Bay, but shipping varies in price and I find is usually well under $9.95 for a couple of items.
(Expiry date unknown)