Gift for Mom? Handbags from $14 with Code @ Naturalizer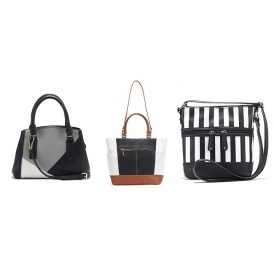 Naturalizer is holding a Best Friends and Family event and offering 30% off your purchase with the code BFF2016. The code works on sale items and, as always, I had to check out the bags. There are purses that have been marked down to $19.99, which drop further to $13.99 once the code is applied. Can't beat that!
For something smaller and unique, the Zenith and Zenith 2 crossbody bags that were $40 would be $13.99 with the code.
There are a few bags—mostly crossbody styles that are great for spring and summer wanderings around town—at the $29.99 sale mark, making them just $20.99 after the additional discount. I like this Furry tote and this Duo Crossbody.
A whole bunch of Naturalizer's sale bags are priced at $39.99 which drops to $27.99 with BFF2016 applied. This cute Quinn Crossbody can be worn with a long strap or over the shoulder; I love this Rebar one, as well.
As I mentioned, the code is valid on your entire purchase so if you don't see any handbags you like, check out the shoes, too! Naturalizer charges $5 shipping for your first item, then $2.00 for each additional item in the order.
(Expires: 10th April 2016)