Alice Court Kaiya Handbag Was $398 | Now $149 + Shipping @ Kate Spade New York (US)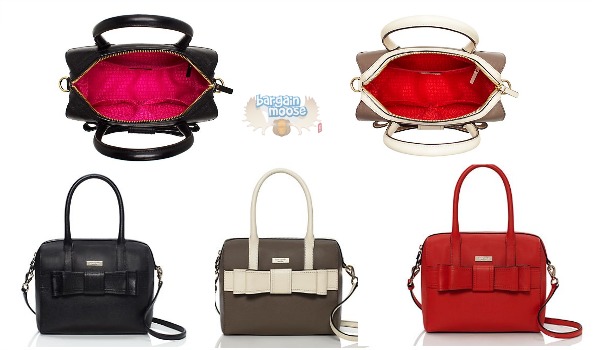 Surprise! Kate Spade New York is having a sale today with up to 75% off select items. Included in the sale is the fab Alice Court Kaiya Handbag. This bag was $398 but now is only $149. Shipping is $10 to Canada with no minimum.
Kate Spade New York is having a fantastic surprise sale today with up to 75% off select items. I am a big fan of Kate Spade handbags. I have owned several and I find them to have both chic and timeless styles. I like the slim lines the bags always seem to have without substituting style or functionality. These are my go to bags for splurging on myself, but not feeling too guilty about it.
Included in this sale is the Alice Court Kaiya Handbag that was $398, but now is only $149. This beautiful little bag with a leather bow detail comes in red, black and grey with a white bow. The colour on the linings really pops also, and is a fuchsia or red depending on the bag you choose. This bag also has both a cross body strap and a set of handles, allowing you to carry it several different ways. Though I like this bag in all three colours, I am pining over the grey with the white leather bow. It reminds me of a bag I would throw down on a blanket as we have some kind of picturesque picnic. Pass the cheese and grapes, let the kids run in the grass and I will rummage through my fab little bag here for a lipstick touch up.
Kate Spade is not easy to find in Canada. Costco has a selection of Kate Spade bags, but none are quite as fab as the bag directly from Kate Spade New York. A comparable bag at Costco would be the Kate Spade Cedar Street Maise Handbag, which sells for $299. Even on Ebay most of the medium sized Kate Spade handbags go for $200 plus and that is assuming you win the auction at the lower end of the price range.
There are a few other great accessories if you are looking for a smaller splurge. I like the whimsy of the Eiffle Tower Pendant. This fab necklace was $179 but is now only $49. This handcrafted pendant is featured in gold and includes a 32 inch chain. It also has a lobster claw closure, which I always prefer on a necklace so it is more secure. This necklace is also  12 karat gold plated with an enamel coating.
Shipping is only $10 to Canada all the time. Duties are unfortunately not included so you may be charged duty at the door. The border does not always insist a duty fee every time, but it is possible you could be picked. I would say it is a small price to pay for this fab deal.
(Expiry: 12th February 2015)