Morphsuits Canada: Full Body Costumes Only $57.59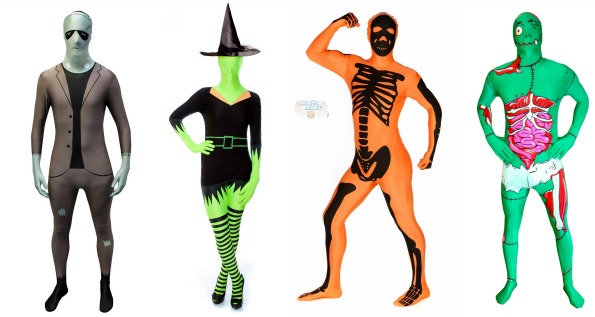 You will never see anything like these because these are sheer awesomeness! Morphsuits are a one-piece suit that transforms your entire body into something else. Right now Morphsuits Canada has a sale on select suits that you just will not want to miss!
These costumes are perfect for comic conventions, costume parties, Halloween, or just playing dress-up and freaking some people out. Size is cross-referenced between height and weight so I highly suggest consulting their size chart page and using the second chart to make sure you get the proper size for your body.
This Mardi Gras Morphsuit was $71.99, and they is now discounted to $57.59. The suit covers your hands, feet, head, and the rest of your core too. I love the little mask feature, and the dual pattern which reminds me of old-school jesters.
Hate getting dressed up for a special occasion? Pick up the Blue Tuxedo Morphsuit or the Red Tuxedo Morphsuit for only $57.59 on sale. This one-piece tuxedo will have you looking spiffy in a jiffy. Better yet, no one will even know it is you so you can come late or leave early without making a scene except for the scene you will make with all the people admiring your awesome tuxedo.
Out of all the morphsuits on this website, this Green Witch Morphsuit would probably be in my top five. Originally $71.99, it is now only $57.59. Wearing that would make you feel like you just came from Oz.
If you are into showing your bones, then check out the skeletal remains of these suits. Pick up the Skeletonorange Morphsuit, the Skeletonwhite Morphsuit, or the Skeletonblack Morphsuit for only $57.59 apiece.
Perhaps you want something a little different, something less mainstream. This Splash Morphsuit is a lovely combination of black and white and certainly not from a mainstream character that I recognize. Originally $71.99, it is now on sale for $56.99 - a tiny bit cheaper than the others.

They also do monsters, glow-in-the-dark, animals, flags, and so many more designs. While it is just adult morphsuits that are on sale, they also make child morphsuits as well. These things are just wicked awesome and I was very happy to find this company. This is the first time that Morphsuits Canada has been mentioned on Bargainmoose, so I have you give them a warm welcome. Also, feel free to comment below and tell us what you think of their costumes!
Shipping is $9.95.
(Expiry: Unknown)