Halloween Costume Shop @ Amazon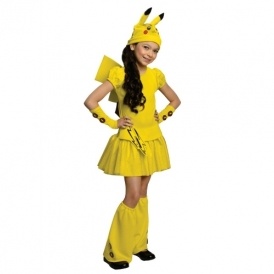 With the cooler weather and shorter days creeping in on us, we start to think about autumn and all things that go along with it. Yummy apple desserts, pumpkin pie, Thanksgiving and, the all important, Halloween! Halloween is beloved by kids (and many adults) and it's fast approaching. Amazon has created a great costume shop full or cute, fun, cool costumes for kids of all ages--and kids at heart.
If your kiddo has been swept by the Pokémon invasion, check out this Pokémon Clip N' Carry Poke Ball Belt. There are three different sets available but, unfortunately, you don't get to choose which you receive. But they all include a adjustable belt, two Poké balls, two 2-inch figurines and two attack tags. It's $23.99. There's also a pretty elaborate Pikachu Costume for girls that's $44.93 or $46.13, depending upon the size.
Speaking of invasions, this Paw Patrol Toddler Chase Costume is too cute. It's sized for most 1-2 year old kiddies (up to 34 lbs.), it comes with a jumpsuit, headpiece and backpack. It's $36.61. I have a feeling this one would be worn before and after Halloween!
There are some really cute options from Melissa & Doug, too. This Doctor Set is $29.99 and includes everything a child needs to look the part--the stethoscope even makes sounds! This Fire Chief Set is great too; it's $34.99. And check out this Princess Set for your little princess. It's just $21.95.
All of these costumes are sold and shipped by Amazon but always be aware that there are third-party sellers, just so you know where your purchase is coming from. It's always clearly noted on the item's page.
Amazon ships orders of $25 or more free of charge.