Halloween Candy From $2.77 @ Walmart.ca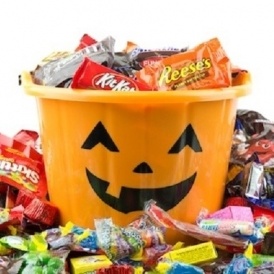 I have to admit, when I put the candy out for the trick-or-treaters I probably eat as much as I hand out. If you are in the same boat, then you definitely want to make sure you get your hands on the best candy for the best prices. Walmart Canada has an entire section dedicated to Halloween candy - and prices start at $2.77!
Everyone loves lollipops - so get these Yummy Earth Organic Fruit Lollipops (15 Pack) for $2.77 - they even have 5 star reviews!
These Russell Stover (No Sugar Added) Mint Patties would definitely make it hard for me to sneak in some treats myself. Get this bag of deliciousness for $2.78.
You can also get 25 counts of Mars Bars, Twix, and M&M's for $5.97. I bet two bags of each would suffice for the entire night, and you'd have some leftovers too!
I would definitely get my hands on the Maynards Assorted Fun Treats Candy - this 45 pack is $7.47. What kids wouldn't love sour watermelon, sour patch kids and those types of candy!?
Walmart.ca offers free shipping on orders over $50, or free shipping to your local Walmart Canada Grab & Go Locker or Canada Post Office on orders over $25. Orders under $25 will be charged a $5 processing fee.