Etsy Artifice Clothing: Discount PVC Clothing & Costumes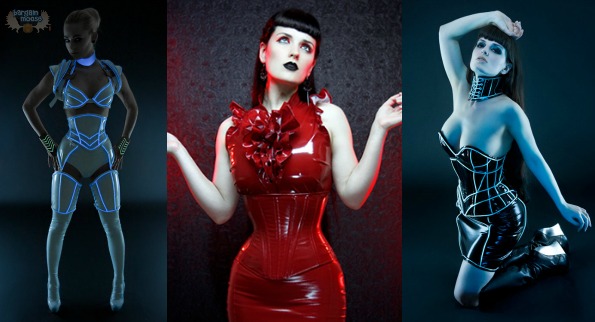 There is a fabulous Canadian company called Artifice Clothing that I have been watching for AGES because they have the most awesome stuff made out of PVC. They have their own website (here) but they are also on Etsy. They use Etsy to clear out production samples, photoshoot samples, exchanges, etc., so the clothing on there is cheaper than their website. Their stuff is perfect for Halloween, comic conventions, and anytime you want to be a little bit naughty and look really nice!
As these are mostly samples and exchanges, the sizes that are available are indicated in the description. If you want something in a different size you can get it for full price on their website (though they do have some made to measure on Etsy as well). Here are some of their Etsy deals:
I have adored this company for ages and am planning on designing a Tron-inspired costume with their glowing PVC items. I also love their Snow White and Harley Quinn costumes - too bad they are not on sale! However, I like these individual pieces on sale because you can really build your own costume with them as foundational pieces or accents and use your imagination. If you are more adventurous, you can mix them into your daily wardrobe.
On my wish list? This 28" white PVC with luminescent icy blue glowing trim underbust corset for $100 ($10 off the original price). I want that soooo bad.
Shipping varies depending on what you are buying.
All items ship from Canada but depending on your computer, prices may be in USD or CDN. Prices listed above are in USD.
(Expiry: Unknown)