Surprise, it's twins! If your kids are still hooked on Hatchimals, chances are they'll ask for a Hatchimals Surprise – and we can tell you where to find them in Canada!
These critters work just like the original Hatchimals: your love and care will help them hatch, but this time, TWO adorable creatures will pop out of the egg!
Best Deal on Hatchimals Surprise

Until March 18, 2018, when you buy the Hatchimals Surprise Peacat (purple and teal) or the Hatchimals Surprise Giraven (pink and yellow) from Mastermind Toys you will get a free CollEGGtibles 4-pack! Both of these Hatchimals are available for $69.99 plus you get the free gift.
This is by far the best price out there right now in Canada, but you can also find Hatchimals Surprise at Chapters Indigo, Well.ca, Walmart Canada and other stores across the country. You can sometimes find them in-person at Costco Canada, but they're currently unavailable on their website.

If it's a more unique Hatchimal you're after, Toys R Us Canada also sells an exclusive Hatchimals Surprise Puppadee, which – you guessed it – are crosses between puppies and chickadees.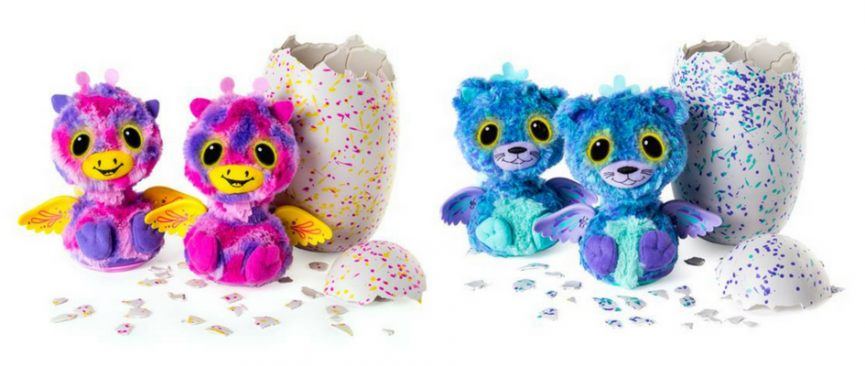 So what is a Hatchimals Surprise?

Still confused as to exactly what Hatchimals are? You're definitely not alone, since they're pretty special creatures. You'll need to follow the instructions and care for each egg until it hatches and reveals a Hatchimals creature – or two!
If you're wondering about the surprise, these magical eggs hatch TWO creatures instead of just one! One twin loves to move and dance, and the other will repeat anything you say! They'll learn new things as they "grow up," so you can play games, sing and even tell jokes together!