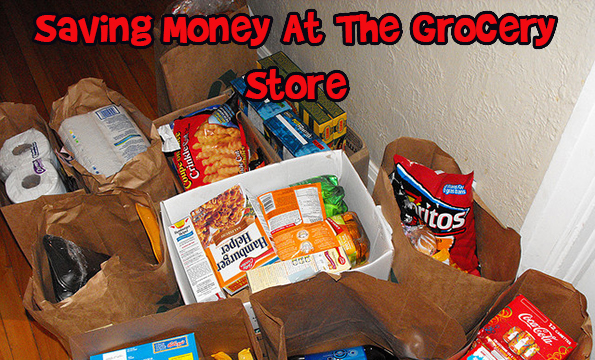 With three children and three pets, plus a hungry husband and a need to cook healthy and somewhat organic meals, you can imagine my grocery budget is high. I've really had to learn how to shop frugally at the grocery store to lower my always increasing grocery budget, as it is the largest expense I have after my mortgage. It has not been easy, but it doesn't involve any double-couponing. You can save money too, and decrease your grocery budget, with some of these tips.
Start with a meal plan
Rather than going willy-nilly to the grocery store, plan your week of eating, down to snacks and drinks. Meal planning is actually kind of fun and really easy. This way you rarely buy more than you need for the week, which means there is less waste and you aren't spending on take-out because you have no idea what to cook for dinner. By spending an hour pre-planning, you set yourself up for grocery budget success. For frugal meals ideas, check out our Frugal Foodie Pinterest board. Organized Home has some great tips on meal planning, plus printables you can use each week. I simply use Pinterest and have a "Now" folder, which I move meals I've previously pinned into and then out once I've made them. I've also been known to rip pages out of a magazine and pin them on a real bulletin board for the week. This way I try new recipes and get organized. You can also just use your tried and true recipes, as long as you know what you'll be eating Monday to Sunday.
Make a List
I was always very resistant to making a list, because I didn't get to shop often and felt this was my chance to shop without abandon. Little did I know that if I planned what I was going to buy for groceries, I could actually save money and buy myself something! I would also use the excuse "I like to see what's for sale", but that is very easy to find out before I go by looking at the flyers. Now I make a list based on what's for sale and my meal plan. If you need incentive to make a list, check out these cool grocery list printables. I also try to price match, which has saved me a few dollars each week, so items on sale at other stores also go on my list.
Take your Kids
You might think taking your kids grocery shopping with you is counteractive, but I find it helps me to stop lingering and looking at things I don't need or that aren't on my list. They get whiny after 30 minutes of sitting in a cart, so I need to get my stuff and get out of there! Rarely do I give in and get them items they don't need, but I do take advantage of the free cookie they give out at the bakery. Some stores may also give out free meat at the deli. Taking them shopping also teaches them how to shop, about healthy eating and good money management, and teaching kids about money is so important.
Know Your Prices
The beginning grocery shopper is going to have a hard time with this one. As I have been shopping for food for many, many years, I pretty much know the price of things. So, when I see in a flyer that something is 50% off, I won't automatically assume this is a good deal. Many times stores will advertise sales that are not sales once you price compare to other stores. Over time it pays to write down the average prices of items you normally buy like meat, milk, eggs, bread, etc. This way when you see a sale, you'll know if it is actually cheaper than what you normally pay. Stats Canada has a pretty cool list of regularly-bought items and their prices now and over the last few years.
Don't stock up
This may sound completely different than what you see on those extreme coupon shows, but stocking up may not be worth it. Just because something is on sale, doesn't mean you need 20 of them. One I've heard many times is "how many bottles of mustard does someone really need?". Really, how many do you need? Mustard is a condiment we use sparingly and a bottle probably lasts us at least six months. Then it expires. If you go out and buy even five bottles of mustard, unless you use mustard on everything, those bottles are going to expire before you use them. That means you just wasted your money and paid over full-price for your on-sale items. One item I do use quite a bit of is peanut butter. We go through a bottle a week, so when it does go on sale for 50% off or more, you can bet I'm getting ten bottles. Again, though, if you are trying to stick to a budget, buying ten bottles of one thing may put you over budget for that week, which doesn't help with your saving.
Don't shop at discount stores
You probably can't believe I just said that. I rarely shop at the discount stores like No Frills or Food Basics and my reasoning is that the fresh items go bad faster. This is obviously my experience and you may have a very wonderful basic grocery store near you with very fresh produce and meat. I personally have not had much luck with them, even finding when I get home that my item was already expired when I bought it. I don't have time to trek back to the store with my three children and get a refund on the expired item, so guess where it goes: in the garbage, along with my money. I've had mouldy cheese, rotten meat and spoiled fruit enough times to realize that I don't like shopping at the discount stores. Instead, I shop at a store I can price match at, that is a full-service store, that is known to have very fresh items. I also find that my fruit and vegetables last longer from a full-service grocery store or even a specialty store, where you might pay more for the items, but they'll last way longer. By throwing out less, you save more money and obviously waste less.
Skip the middle aisles
Packaged food is not just bad for you, it really is expensive. I've heard the argument the other way that buying completely fresh food costs more than packaged, but in terms of the standards of the food, your caloric intake and how much you get, buying fresh always wins. Oreos may only be $1.99, but once you buy all of the ingredients for chocolate chip cookies, making them a number of times will decrease your cost per cookie. Plus, the cookies will be fresher, better tasting and not loaded with trans-fats and preservatives. Check out the many cookie recipes at the Frugal Girls Pinterest Page. If I need items from my list in the middle aisles, I go straight to the item, then get out, trying not to be swayed by the colourful packaging.
You can use coupons
I actually rarely use coupons because I find trying to match coupons to sales overwhelming. If you are so inclined, this is a good way to save some money, especially when you order them from Save.ca or Brandsaver. What I usually find, though, when I try to use a coupon is that the money saved on that item makes the item a comparable price to another brand, a brand I probably already buy anyway. For example, President's Choice makes almost everything you can imagine and sells it for a lower cost than the name brands. I find it always good and comparable to the higher-priced items. When there is a coupon, it usually brings the price of the item to the same price as the President's Choice brand. Just to be easy, I stick with President's Choice and I don't have to remember that piece of paper at checkout. Another problem with coupons is that they are rarely on fresh items and try to summon you back to those packaged goods, which most of the time, you don't really need.
Find out about rewards programs
I recently started using PC Plus points and although I've seen that a number of people have had trouble signing up, I have had no problems with it. I've saved over $100 in groceries since I started using it just a few months ago. I don't buy anything out of the ordinary that I wouldn't buy anyway, so it is just a win all around. Other stores may offer their own rewards plans or accept Air Miles. What I have seen with stores that offer Air Miles is that the bonus miles are on full-priced items when you buy more of them. This doesn't save you any money, because you might buy items you wouldn't normally buy, in quantities you wouldn't normally get, just to get a few miles. Even if you get 10 Air Miles for your purchase, that only equals up to $2 or less in Air Miles terms. Figure out if it is really worth it before buying bonus items.
Make everything easy to eat
One problem at my house is that I just quickly put my groceries away and move on with my day. All those vegetables and other ingredients sit in the refrigerator waiting to be eaten, but when the time comes, they can be inconvenient because I don't have time to prepare them. I've seen it suggested that you should wash and cut up all your veggies and store them so they last so they are readily accessible and easy to eat. This might also mean pre-cooking a few items, so you never reach for packaged snacks or think you need to go out for food. The Kitchn has some great tips on storing your produce for maximum efficiency.
Many of these tips have saved me quite a bit off my grocery budget. Bargainmoosers, do you have any tips for saving money at the grocery store? Let me know in the comments below.
(banner image credit: meddygarnet)