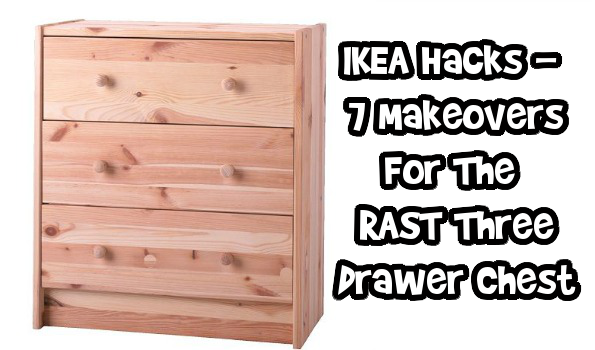 In our home we never seem to have quite enough storage. Every time I think I have a new system in place, I blink and our storage needs have changed somewhere in the house. Check out the RAST Three Drawer Chest at IKEA made of solid pine. This small three drawer chest is super affordable at $40 for storage, but lacks a little curb appeal. With a little paint and some new hardware, this basic piece easily morphs to fit your style. You can also stack two side by side for even more storage. Check out seven inspirational makeovers below using the RAST Three Drawer Chest.
Apothecary Storage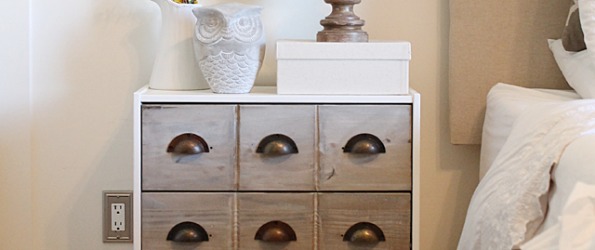 Thrifty and Chic made a beautiful nightstand that looks like it is straight off the pages of a magazine with this apothecary table makeover.  I might consider using this as part of my drop spot in my front entryway that I discussed in the post 5 Cheap Strategies To Curb Kid Clutter. I love her choice of hardware. This project will cost some paint, a few drawer pulls, a router and a little time to create a piece that looks fairly high end.
Modern Bathroom Vanity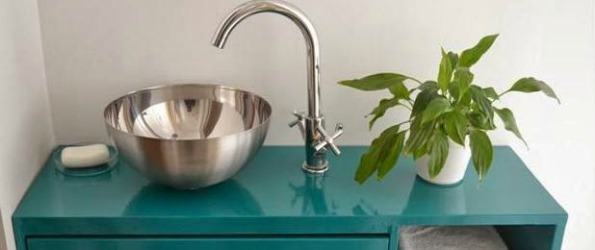 This hack is taking the RAST Three Drawer Chest to a new level and turning it into a full vanity with a salad bowl, some plumbing, some extra wood and paint. You can check out this amazing hack on the blog Berger Porta or see the inspirational photos this blogger posted on IKEA Hackers. The blog itself is Hungarian, but has enough pictures to showcase the full process.
Asian Inspired Chest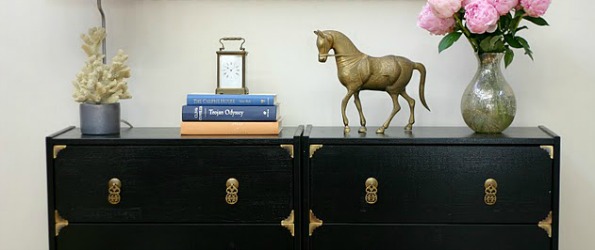 Design Manifest created a beautiful design mimicking a higher end Asian chest. Start by coating the RAST Three Drawer Chest in a coat of glossy black paint. Red would look amazing also if you are bit bold. The trick to this hack is finding just the right antique looking brackets and drawer pulls to pull the whole piece together. While this blogger used two sets of drawers to make a longer piece, you could easily adapt this technique to make a single smaller storage piece.
French Provincial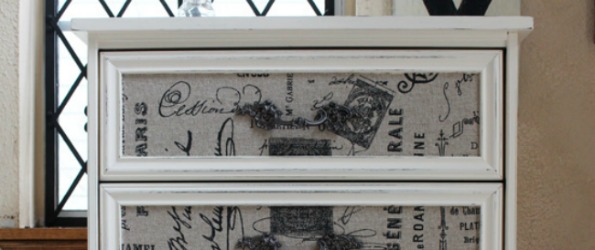 I love the graphic fabric on this French Provincial style RAST Three Drawer Chest from Confessions of a Serial Do It Yourselfer. I would never know this beautiful set of drawers started as a simple IKEA set of drawers. The molding trim and added piece of wood for the top really set this hack apart to create a beautiful piece of furniture. The blogger uses Mod Podge to add fabric to the front of the piece. From personal experience, I recommend buying the hard coat Mod Podge for furniture as it both adheres the fabric well and gives you a shiny yet durable top coat. If you're not familiar with this awesome product, check out the Mod Podge Rocks blog for tips and inspiration.
Closet Storage System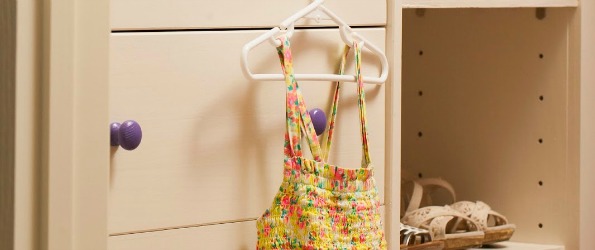 Over at My Bella Bug they stacked two of the RAST Three Drawer Chests on top of each other to create an awesome custom closet. With the addition of some adjustable shelves, this kids closet storage solution looks amazing. This idea could easily adapt for an adult storage system also. My Bella Bug has some detailed pictures to help you create your own. I expect this would be a multiple day project to complete, but it turned out amazing.
Nautical Stripes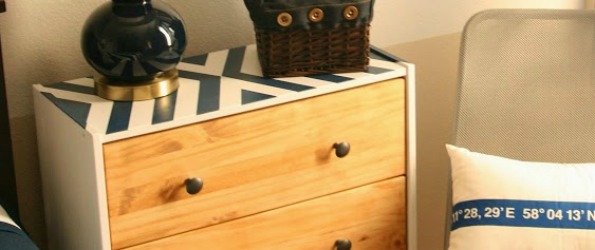 Check out this is a super simple hack that will give your RAST Three Drawer Chest a little bit more character from Windgate Lane. Use some painters tape to create fun nautical stripes. You may notice they left some of this chest natural on the front. Not only does leaving the natural wood make this project beautiful, it also makes this one of the quicker hacks.
Campaign Style Drawers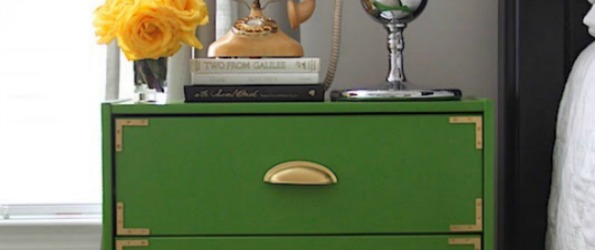 Dwellings By Devorehas a cute green campaign style RAST Three Drawer Chest. This piece could easily be in your bedroom, living room or entryway. I like the colour of this green in particular, but have seen almost every colour of the rainbow made in this same campaign style for a pop of colour. This is a simple hack with a big payoff. Simply add paint, handles and brackets.
Bargainmoosers, how would you makeover a RAST Three Drawer Chest?
(Image Credit: Theen Moy)