Oh no! Ikea has posted a recall warning on their website - and you will want to read about it. The IKEA Gothem Lamps have been recalled due to a potential electric shock risk. How scary is that?!
This recall was released on the Ikea Canada website on March 17th. Ikea urges that all customers who have purchased a Gothem Lamp to immediately stop using the item and bring it back into any IKEA store to receive a refund.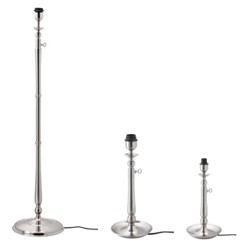 It turns out that these floor and table lamps are being recalled by IKEA due to a large electric shock risk. There have been many damaged cables found, and damaged cables can lead to the metal lamp becoming electrically live. In turn, that means if you touch the lamp you could be in for a serious shock - which is definitely a safety hazard.
So far, Ikea Canada has not received any reports of injuries. Nonetheless, you don't want to be the first one. So pack up those lamps and get them returned for a full refund. This recall includes all three models of the GOTHEM lamps. Two models are table lamps (as pictured) and one model is the floor lamp. These lamps have been sold at IKEA stores since October 2015.
Moosers, have you purchased one of the affected lamps?